Do you run a business based in the 4178 postcode?
If so, you should know about a new opportunity to promote your local business to the local community – the Wynnum Central Print Edition.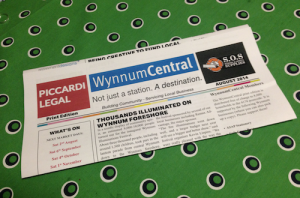 The WynnumCentral Print Edition is a new source of information about what's going on in and around the central shopping area in Wynnum. It is a monthly double-sided A3 newssheet which is distributed to 8,000 households in the 4178 postcode and to local businesses.
If you are interested in…
an advertising opportunity to 8,000+ local residents and businesses
getting in front of our 1,000+ email subscribers, 1,200 Facebook fans and 4,500+ monthly website pageviews
supporting (and being seen to support) initiatives that benefit the local community
…you should consider the WynnumCentral Print Edition (and our online and social media presence) to reach out to your existing and future customers.
Not only do your funds help you promote your business, they also help WynnumCentral implement programs to revitalise Wynnum, such as the monthly Art/Craft/Vintage/Retro Market and the WynnumCentral Shopping Voucher program, and initiatives to be launched soon such as the Wynnum Creative Spaces program (to fill empty shops with creative businesses on a temporary basis), WynnumART (a planned monthly Sunday morning event) and the proposed Twilight Seafood Market.
Here's how you can get involved:
Print Edition
Gold branding (60mm x 48mm or 120mm x 25mm) – $368/month
Silver branding (70mm x 30mm) – $217/month
Standard branding (70mm x 8mm) – $152/month
Lock in your support of WynnumCentral before this coming Sat 6th September and get a 10% first mover discount, by replying to this email, or call us on 07 3040 1972.
Complete the Booking Form and then scan and email or fax to 07 3319 6319.
The Small Print
1) based on 6 month plan, 6 editions, paid weekly (or monthly) via direct debit; discounts for payment in advance; ads in single editions at double rate; all figures include GST.
2) ask about our discounts for businesses based in 4178 but outside WynnumCentral, non-retail business and nonprofits.