Multicap Makeables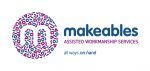 Business Name:
Multicap Makeables
Long Business Description:
79 Proprietary Street Tingalpa
4173
Social enterprise employing people with a disability offering local business process manufacturing solutions.
The quality of life of people with a disability and their families are enhanced by our support. Employment gives social inclusion; skills and hope to people. Multicap have process manufacturing facilities in Tingalpa and currently engagement the business community supplying packaging and finishing solutions. On the horizon is third party logistics and further supply chain services. Whether you want a container repackaged or some stock labelled we might just have a very competitive solution for your business.
Business Website Address: http://www.multicap.org.au
Business Phone Number: 07 32929111
Business Fax: 07 3390 6721
Send Message to listing owner
Listing Title: Multicap Makeables