Headlines
Car parking an issue in draft City Plan
Brisbane City Council recently closed its submissions of comments relating to the draft City Plan.
The Wynnum Chamber and the Wynnum Redevelopment Taskforce sub-committee wrote a letter to the Council with reference to proposed changes to the car parking space allocations and setback provisions outlined in the draft code, pointing out that these changes were likely to have a significant negative impact on development and redevelopment in Wynnum.
In essence the Council is proposing more car parking spaces be provided in a development application, which is very likely to render most developments unviable and effectively stop five and eight storey buildings being built in Wynnum.
Wynnum was re-zoned only a few years ago to allow five and eight storey buildings in the central area, on the basis that as a Transport Oriented Development (TOD) zone*, higher density residential and commercial development should be encouraged. Now it looks as if the new City Plan may stop this.
At a late stage in the consultation process a number of Wynnum residents gave their support to the Chamber's letter to Brisbane City Council. We will now have to wait and see what happens.
You can read the letter that was sent to the Council by clicking the image below.
What do you think?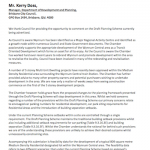 *TOD zones were designated based on availability of public transport links into Brisbane City. Locations such as Wynnum on mainline rail into Brisbane were designated as suitable for higher density development to accommodate the projected population increase of Brisbane and South East Queensland
Main image credit: http://www.flickr.com/photos/timcaynes/166513875/