Headlines
Killer Queen killed it at Wynnum RSL gig
Queen tribute band Killer Queen went down a storm at their concert last weekend at the RSL. Playing to a packed house – tickets were sold out with more than 350 people in the audience – they played almost all of the megaband's hits apart from, ironically, Killer Queen.
Queen's wide appeal showed in the makeup of the audience, ranging from 2 years old to 'quite old', most of whom seemed to know all the words and were singing along.
The band paid a lot of attention to detail and although 'Freddie Mercury' is a true blue Aussie he spoke and looked exactly like the real thing – accent, mannerisms, the lot. Brian May even had an accurate replica of Brian May's own guitar. Well we're assuming it was a replica.
According to the band it was the first time they had to have a security guard at their dressing room to make sure fans formed an orderly queue for photos and autographs.
One member of the audience – Margie from Jimboomba (pictured) – is a devoted fan, following Killer Queen on tour and bringing with her her very own Freddie Mercury doll. Thankfully only about 40cm tall.
---
Are you a big tribute band fan?
Let us know which tribute band/s you'd like to see at the RSL in the comments below. We'll then compile these into a poll and get everyone to vote. And let's see if we can get the winners along to play the RSL!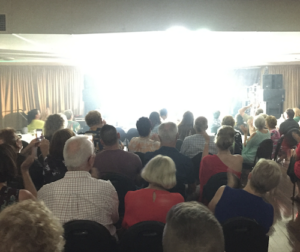 ---
[posts_carousel cats=""]