Headlines
Renewal and co-working in Redcliffe
It's not just Wynnum that faces the challenge of empty shops and a slow retail environment: traditional retail locations around Australia and around the world face the same problems, caused by a combination of ever changing shopping habits, online shopping and slow economies.
Other towns and cities, such as Newcastle in NSW, have taken a radical approach to the problem of empty retail units, with a scheme called Renew Newcastle. The project is all about revitalising the city with short term art and community based projects occupying what would otherwise be empty shops.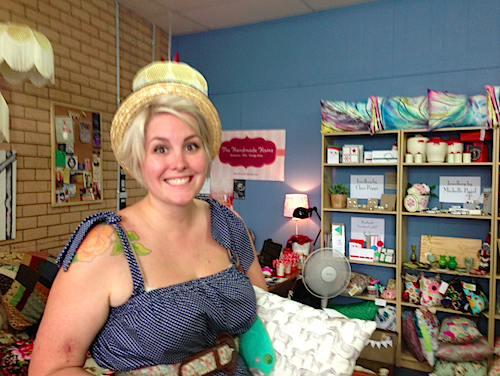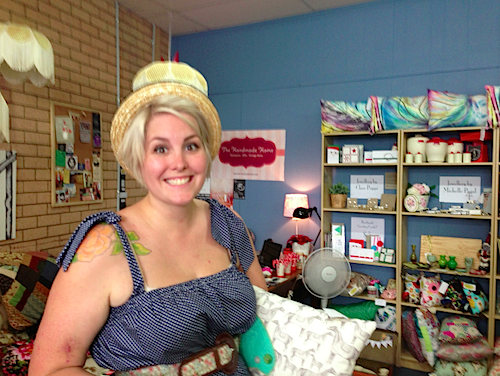 A group in Redcliffe called Moreton Spaces (see news item on Courier Mail site here), run by Janice Charlish, has adopted the Renew model to do the same thing in the suburb North of Brisbane (part of Moreton Bay Region) and has had some success in filling empty shop units with vibrant art/craft based projects (pictured: Ashley Wockner, owner of The Handmade Home shop is part of the scheme). WynnumCentral and a delegation from the Chamber of Commerce went up to Redcliffe to find out more.
We met up in a building which used to be the council's main offices until these were moved to a new building. Instead of re-letting the space, the council has converted the space on the ground floor to a co-working hub, with offices, meeting rooms and cubicles for use by local small businesses as a temporary/permanent base. As we discussed briefly here: Co-working in Wynnum, co-working is a halfway house between working from home and working from an office, allowing business owners – in theory – the best of both worlds!
(about a year ago your editor attempted to set up a co-working office in Wynnum, which unfortunately didn't get off the ground – perhaps the time is ripe now?)
WynnumCentral and the Chamber are investigating how we may be able to run a similar Renew style project here, we'll keep you posted on developments.
Tell us what you think of the Renew approach and your thoughts on co-working in Wynnum. Will it work?