Headlines
Shop survey: Cinema comes out top (again)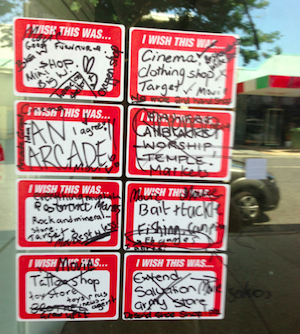 So far 466 people have completed our shop survey, where we recorded all the suggestions written on the stickers on empty shop windows in Wynnum. We now have the full results which we are of course happy to share…
| | | |
| --- | --- | --- |
| SHOP | VOTES | % |
| Cinema | 360 | 77.25 |
| Bar/Diner (late opening) | 260 | 55.79 |
| Sushi Bar | 220 | 47.21 |
| Tapas Bar | 216 | 46.35 |
| Delicatessen | 201 | 43.13 |
| Wine Bar | 193 | 41.42 |
| Ice Cream Parlour | 190 | 40.77 |
| Mexican Restaurant | 184 | 39.48 |
| Healthy Juice/Sandwich Bar | 181 | 38.84 |
| Boutique Beer Cafe | 174 | 37.34 |
| Bookshop | 160 | 34.33 |
| Homewares | 158 | 33.91 |
| Women's Clothing | 158 | 33.91 |
| Organic Food Store | 132 | 28.33 |
| Pizza Restaurant (eat in) | 130 | 27.90 |
| Greek Taverna | 129 | 27.68 |
| Frozen Yoghurt Shop | 125 | 26.82 |
| Chocolate Shop | 118 | 25.32 |
| Fashion Accessories | 115 | 24.68 |
| Retro Shop | 109 | 23.39 |
| Burger Joint | 105 | 22.53 |
| Music Shop | 97 | 20.82 |
| Shoe Shop | 96 | 20.60 |
| Art Gallery | 93 | 19.96 |
| Craft Shop | 91 | 19.53 |
| Fishing/Camping Store | 83 | 17.81 |
| Fabric Shop | 82 | 17.60 |
| Art Store | 77 | 16.52 |
| Electrical Shop | 77 | 16.52 |
| Sweet Shop | 77 | 16.52 |
| Record Store | 74 | 15.88 |
| Babywear | 67 | 14.38 |
| Hobby Shop | 66 | 14.16 |
| Men's Clothes | 66 | 14.16 |
| Pet Store | 65 | 13.95 |
| Roller Disco | 61 | 13.09 |
| Fudge Store | 60 | 12.88 |
| Games Arcade | 60 | 12.88 |
| Jewellery Store | 58 | 12.45 |
| Old Fashioned Toy Shop | 57 | 12.23 |
| Swimwear Shop | 56 | 12.02 |
| Secondhand Junk Shop | 52 | 11.16 |
| Supermarket | 52 | 11.16 |
| NRL/AFL Store | 45 | 9.66 |
| Camera Store | 43 | 9.23 |
| Plaster Fun House | 43 | 9.23 |
| Comic Shop | 42 | 9.01 |
| Men's Interest | 37 | 7.94 |
| Tattoo Parlour | 30 | 6.44 |
| Sci Fi Bookshop | 25 | 5.36 |
| Skate Shop | 24 | 5.15 |
| Anime/Manga | 23 | 4.94 |
| Brothel | 10 | 2.15 |
Apart from the cinema, which of course almost everyone would love to see, the majority of the popular ideas are around night entertainment and places to go to eat and drink during the day and in the evening. At WynnumCentral, we've always thought Bay Terrace would make a great entertainment district, as was suggested in one of the Wynnum Chamber's suggested plans for Wynnum CBD.
We'd be very interested to hear your thoughts – let us know in the comments below.
PS We're keeping the survey open, since we'd like to hit a round number of 500 responses, so if you haven't completed it please feel free to do so.
PPS WynnumCentral's David Bateson was interviewed recently by ABC612 Radio Brisbane's Matt Macklin on Spencer Howson's breakfast show about the stickers that have appeared on the windows of empty shops in Wynnum. Hear what he had to say…
http://blogs.abc.net.au/queensland/2014/02/can-a-sticker-campaign-help-fill-disused-shops-in-wynnum.html?site=brisbane&program=612_breakfast