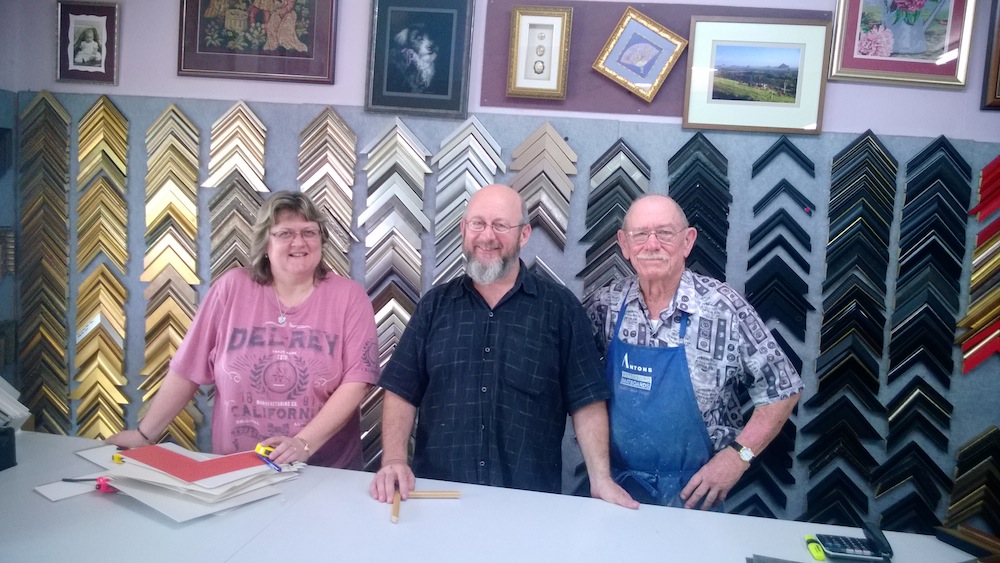 The Richardson Family – framing for almost 50 years!
Tucked away just over the railway line, is Manson Framers, serving Wynnum for 50 years next year. And there's no slowing down. When WynnumCentral visited them this week they were as busy as they have ever been. They have just had their name painted on their front shed roof so commuters on the train can more easily find them. That and the response to their Edith Street art/craft/vintage/retro market stall is introducing new customers to their broad range of products and services, adding to the Australia-wide customer base.
At the entrance of the business is the shop, with its Great Wall of frame samples, displaying frames and supplies – enough to satisfy all , and if not, the staff will help you find exactly what you want from suppliers worldwide – at reasonable cost.
The front of the business is a shop selling a broad range of quality art materials as well as embroidery and tapestry materials. Staff, many of whom have been with the business from near the beginning, have expertise in every product and service they sell.
Artworks have been restored and framed for many notable Brisbane galleries and organisations…
Framing and frames, matt boards, glazing and mounting materials
Conservation custom framing
Restoration and oil and paper based artworks and frames
Computerised matt cutting
Mirrors
Art supplies
Embroidery and tapestry needlework materials
Advice and classes
Projet d'art memorabilia
The framing and art supply business is housed in the old warehouses of the long gone Wynnum sawmill. It's an enormous labyrinth that reminds you of Dr Who's Tardis. Behind the shop is the office, then stretches out to a large space with huge framing tables – with favourite artworks hanging on the walls with son Cameron able to show some his favourite local artists.
The business has ample parking with direct access to a courtyard for loading and unloading at the rear of the premises.
This close family and staff, with more than 100 years combined experience, have experienced great highs and together, most especially the deeply felt death of Keith's wife Lorraine and their son Ian in recent years, both of whom were integral to the business, well known in Wynnum.
Here you will meet three generations of the family including Keith (the founder), Cameron , Sharon and David, and long time staff including Jackie, Chrissy, Anna and Sue. This is a tight team, laughingly saying it is like a family with normal squabbles along the way, but as a reporter for WynnumCentral walked through the premises, the feeling of love and pride is obvious.
Busy working in the various spaces, staff are involved in conservation, tapestry and canvas stretching, archival hingeing, and dry and cold mounting (they'll tell you the difference and what is best for you). They are rescuing old tapestry and framing new ones so they will last for years, likely to turn up on an Antiques Roadshow series in a couple of hundred years, still in peak condition!
Keith Manson has a keen interest in restoring old artworks and so completed a restoration course with international expert, the late Bill Haney in California. He can provide examples of old paintings, including a lovely painting of dogs from 1899 that arrived with deteriorating canvas and great gaps in the dogs fur, which he fully restored.
The Manson staff says they frame not only great paintings, but also children's paintings and photos, wedding and birthday photos, tapestry and cross stitching, and long stitch, indigenous paintings, lithographs, certificates, etc.
They also have the framing of jigsaws down to a fine art – customers bring them in rolled up, and sometimes Manson staff have to redo the edges, but generally the pieces stay attached.
They offer quality mounting and framing – including conservation and museum quality framing, hence their skills being in demand with art galleries, museums and art centres.
This is a business where the love of what they do and the care for their customers, some of them who have been coming to them for more than 40 years, makes it a magical experience to visit.
Manson Framers are members of WynnumCentral.
Manson Framers
6 Ronald St Wynnum Brisbane QLD 4178
07 3396 4251
www.mansonframers.com.au
Open Monday-Saturday
This article was originally published on Nov 19, 2013.