An Aladdin's Cave of wares greets you on entering the Creative Treasures shop at the top end of Florence Street. José Toussaint and Tom Keown are the knowledgeable welcoming hosts and owners of this extravaganza of all things retro that sits amidst an array of contemporary crafts. It's the place to go for that ultimate present when you 'haven't a clue what to buy.'
They have a quirky range of goods with a particular 'retro' feature being the 'petrified' or fossil wood furniture made from forests dating back over 20 million years. You can combine this with the ultimate fashion item of Jurassic shark teeth (going back a mere 15 million years) from the 25 metre long Megalodon shark.
They have had erotic paintings, stock Kama Sutra cards and even have a cashmere shawl belonging to the nurse of British Prime Minister Gladstone dating back to the 1850's.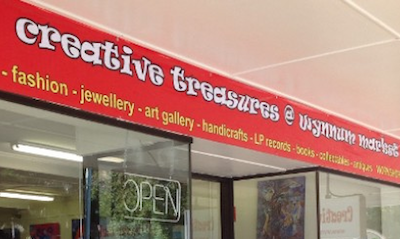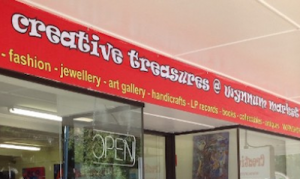 Popular items are the shelves of LP records – some worth over $500 – and comics allowing for hours of browsing by music and comic book lovers of all generations. Their range of collectibles is unique, including a claim to be the only stockist outside America of a range of Marvel figurines, some of which retail at over $200.
José is of Dutch origin, having lived in New Zealand for several years and it is there where she says her 'heart is' alongside her family and the shop.
Annual trips to Lota to look after a friend's pet brought her to the Bayside where she eventually settled in 2005. She has a passion for natural therapies and is a Kinesiologist and an officially trained Brain Gym coach.
Tom grew up in country NSW and Sydney, then living in South East Asia for 20 years working on many development projects and even counter terrorism operations. He is fluent in Thai and has a good command of Italian.
José and Tom met in 2010 and worked originally at the Sunday Chandler markets selling mainly books and records. After many requests to take items on consignment they opened the Creative Treasures store in April 2012.
Their premise was to stock arts and crafts items – i.e. Creative – with a collection of pre-loved items at the rear of the store acting as a 'Treasure' hunt for unusual items ranging from records, books, clothes and collectible items.
Their love for Wynnum is its close community and as Tom describes "Its laid back village lifestyle and the carefree nature of the people," adding "it's like a fishing village ambience reminiscent of the 1950's walking along the foreshore."
Tom believes Wynnum is moving on from its past with the future looking positive over the next decade. "The new Saturday Twilight market and the promise of new retail outlets and a wine bar are evident of that" says Tom.
It's far from 'Back to the Future' for Tom and Jose as they continue to provide the quirky and collectible for customers looking for something 'a little bit different'. Which fits in really well with the Wynnum style.