Headlines
Twilight Market (this Saturday) – What's On
We have around 45 stalls booked in for the Twilight Market (3.30pm-8.30pm in Edith Street), including ten that are part of the Holistic, Green, Sustainable, Organic section we are featuring this month. Check out all the stalls here.
There will also be a great variety of food and refreshments available – including Asian food, Turkish food, pancakes, German sausages, Indonesian food, pizza, plus coffee, cold drinks, snow cones and more!
As ever we have a great line up of entertainment for you, from buskers playing up and down the street to some great music on the main stage.
Musicians and bands from local youth group [email protected] Collective will be opening and closing the show on the main stage, with Floyd Family Breakdown and Sadie & Jay topping the bill. Here's some info on them…
Floyd Family Breakdown
This three piece country/bluegrass/western band (main picture) plays a mix of originals and well known country songs, with a lineup of instruments including mandolin, acoustic guitar and lap steel guitar with a double bass and occasional banjo to boot. They have a residency at The Bearded Lady and also play at The Milk Factory, Lock'n' Load and The Cardigan Bar, plus have played at the Woodford Folk Festival.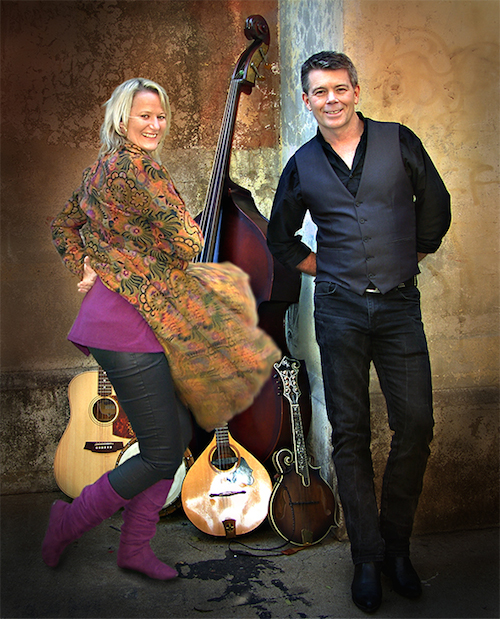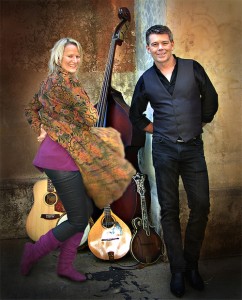 Sadie & Jay
Sadie and Jay sing captivating songs accompanied by intricate finger style playing. Their contemporary and original folk music styles have leanings to the alternative with a tinge of blues and roots. Blending vocals of rare calibre with an evocative back-drop of traditional folk instruments this duo perform intimate, expressive and resonant music.
Sadie and Jay recently released their first album CURIOUS launching in March 2015 with five leading Brisbane musicians as their guests. The album is a collaborative project featuring 10 original songs. Currently over 40 community radio stations around Australia are playing songs from their CURIOUS album. Two of the songs have been shortlisted for the 2015 ASA Awards.
Sadie and Jay have been performing as a duo in and beyond the Brisbane folk and festival scene for close to three years developing their unique style and material. They will be crossing the ditch to Auckland Folk Festival in February and touring Scotland and Wales in May 2016.
…and some other things…
Plus we will have the mini market on the footpath at the Bay Terrace end of the street, and a few young merchants showing their wares. We'll see you there.
---
[posts_carousel cats=""]