Vague Art in Wynnum – a new trend?
Dolls and Doilies in Bay Terrace (next door to the new wine bar Cedar & Pine) are holding an exhibition of art by Linda Murray. The collection is entitled 'Vague' – a play on the word 'vogue', and is a series of collaged fashion designs that sprung from making paper dolls and dressing them.
Linda has exhibited in Australia and internationally, including exhibits at QUT, the QUT Art Museum, the State Library of Queensland, The Horse Hospital in London and at Beijing University.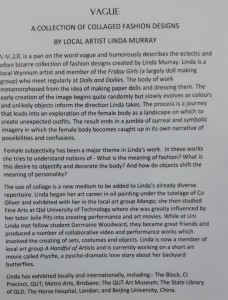 [posts_carousel cats=""]