Headlines
Wynnum gets a new Visitor Information Centre (it's just not in Wynnum)
On 29th January the Manly Harbour Village Chamber of Commerce launched the Wynnum Manly Tourism and Visitor Information Centre at its new location on William Gunn Jetty in Manly. Here is the information on the new centre as provided in the centre's launch press release…
-0-
After moving from its location in Cambridge Parade in December (ed – now a superfood juice/smoothie bar), the new Visitor Information Centre is fully operational with 10 volunteers and a new manager.
Visitor Information Centre manager Deirdre Thomson said that the new site provides a prime location, at the 'step off' point to Moreton Bay.
"The William Gunn Jetty site allows us to connect with tourists and visitors to Wynnum-Manly and promote the area and our unique local tourism opportunities," Ms Thomson said.
Ms Thomson said that the Visitor Information Centre is keen to speak with tour operators and local accommodation providers who are looking to promote their businesses.
"We look forward to helping local businesses identify new opportunities to benefit from our vibrant local tourist economy," she said.
"The lease of the William Gunn Jetty precinct has been made possible with generous support from the Department of Transport and Main Roads" said David Farley from the Manly Harbour Village Chamber of Commerce. The move is the first stage of a greater vision for tourism in Wynnum and Manly with the planning of the Moreton Bay Discovery Centre to be adjacent the Information Centre, in full swing.
"The new centre is located next to Café Bullfrog on the William Gunn Jetty, which is Brisbane's only over-water restaurant and is sub-leased from the Chamber of Commerce," Mr Farley said.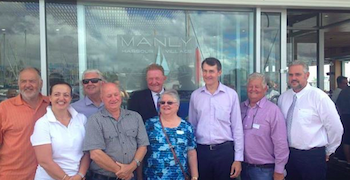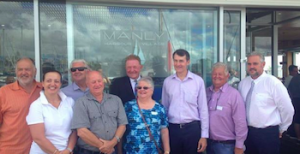 Lord Mayor Graham Quirk, who officially opened the new Visitor Information Centre on the 7th February, said Council is pleased to support the project which will boost the profile of William Gunn Jetty as one of Manly's top tourist attractions.
"This project is an excellent example of how we are working with the local Chamber of Commerce to create and maximise economic and social opportunities for Manly," Cr Quirk said.
"In addition to a $75,000 grant, Council is supporting the Chamber of Commerce with a $75,000 loan to cover the $150,000 cost of relocating the Visitor Information Centre as part of our commitment to boosting the local economy."
Ms Thomson said that the Visitor Information Centre is currently recruiting volunteers and said,
"If you would like to be a part of this exciting tourism future for Wynnum Manly as a volunteer Information Officer for the Centre or as part of the Moreton Bay Discovery Centre committee, please phone: 3348 3524 for further information."