The popular Wynnum UpLate late night shopping event is staging its Christmas special 5pm-9pm this coming Friday 10th December in Florence Street, Bay Terrace and Edith Street in WynnumCentral. There will also be a fashion parade at 7pm.
The 22 outlets that will be participating (so far) are…
1. Bare Traps (Edith Street) LADIES SHOES
2. Bay Blends (Edith Street) CAFE
3. Chocolate Elements* (Edith Street) CHOCOLATIER
4. Cultivate Design Co. (Bay Terrace) HOMEWARES
5. Distressed Homewares (Edith Street) HOMEWARES
6. Fleur by Ellie (Bay Terrace) FLORIST/CAFE
7. Florence & Cornelius (Florence Street) HOMEWARES
8. Frenchies Cafe (Bay Terrace) CAFE
9. Gigglefit Grammar (Bay Terrace) SECONDHAND BOOKS ETC
10. Gotta Go Boutique (Edith Street) LADIES FASHION
11. Hearty Art Studio (Bay Terrace) ART CLASSES
12. Le Busté* (Edith Street) LADIES FASHION
13. Lewis & Philp (Florence Street) LADIES FASHION
14. Matilda the Art of Gelato* (Florence Street) ICE CREAM/GELATERIA
15. Save the Children (Bay Terrace) OP SHOP
16. Simply Bella* (Bay Terrace) LADIES FASHION
17. Sobidah Clothing Co.* (Edith Street) LADIES FASHION
18. Sonny Jim Menswear (Edith Street) MENS FASHION
19. The Coffee Club* (Bay Terrace) CAFE
20. The Collective Store (Bay Terrace) FASHION/HOMEWARES
21. The Little Toy Tribe (Bay Terrace) CHILDRENS TOYS/EDUCATION
22. Wynnum Fine Jewellers (Edith Street) JEWELLERY
*indicates member of Wynnum Business and supporter of WynnumCentral.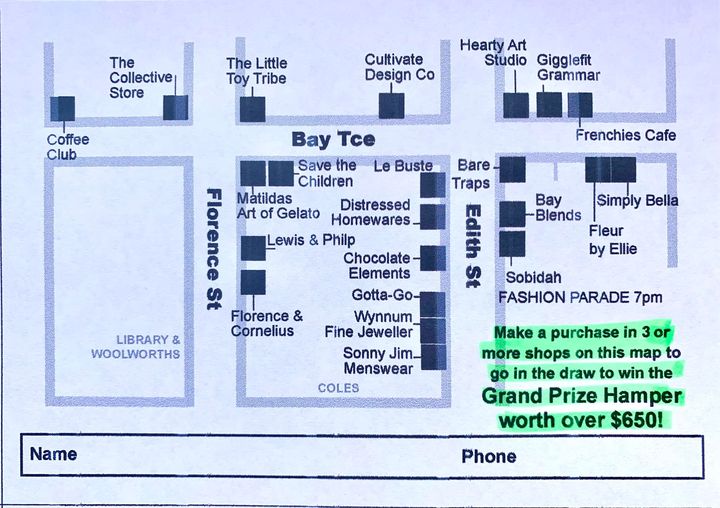 PS to go into the draw for the $650+ Grand Prize Hamper all you need to do is make a purchase in 3 or more shops on the map. – as stated on the map above!