The new Bay Terrace business hub – Central Business Associates – is located right in the heart of Wynnum. Operated by Celia Newlands, the hub offers private office space, coworking spaces, meeting rooms and a boardroom.
The hub provides a low-cost alternative to working from home. Celia's vision saw the need to bring together local businesses with the benefits of sharing costs, helping each other, and providing a base to meet clients.
"After three years of planning I finally felt that I'd found the right place in the right community," Celia says.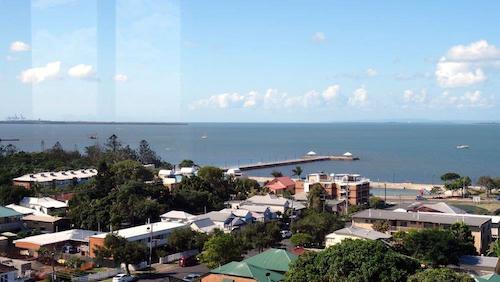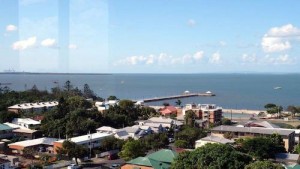 Situated on the top (fifth) floor of the newly painted Flinders Centre on Bay Terrace in Wynnum, it has breathtaking views overlooking the beautiful bayside and islands beyond and the Brisbane CBD to the west.
Along with full time and part time office space there is the option for co-working.
So what is coworking? Celia describes coworking as, "a space which allows you to work alongside other people without the cost of a permanent office generating reduced costs whilst still maintaining and working in a professional environment".
"It's all about collaboration – those random conversations you end up having with someone when you realise you have common ground, creating huge benefit to your business and others." says Celia.
Some find coworking offers a solution to the isolation and distractions of working at home, whilst others want to communicate, network and socialise with other business owners.
New tenants at the hub include Strucmac, Amy Jackson and Stack Masula with associate members comprising local businesses SteinArt and My Life Support Services, along with WynnumCentral members Financial Milestones and NewsBusiness (plus it's also the new home of WynnumCentral and the Republic of Wynnum!)
Not sure if you need an office? Central Business Associates also has a range of membership levels which offer central advertising, coworking, mentor sessions and discounted rates. This is a great way to be connected to the business hub without the commitment.
Central Business Associates has been a hive of activity in the past few months with the official opening, new tenants moving in, a content marketing workshop, a Bayside Women in Business (BWIB) networking event and even a law clerk training course. It's also been an impromptu studio for a photoshoot for business owners needing headshots for their websites and social media pages.
Keep an eye out on their Facebook page for more upcoming business improvement workshops.
Celia agrees that the Bayside is certainly the place to be, arriving with her family in Australia just over three years ago from Scotland. They spent three weeks in temporary accommodation in the Wynnum bayside area and never left. Celia has always enjoyed maintaining links within the community and as such is currently an active member of CCIQ Brisbane Bayside, Bayside South Development Forum including organising the monthly BWIB coffee mornings, and of course WynnumCentral.
http://centralbusinessassociates.com.au/
Central Business Associates is a member of WynnumCentral
[posts_carousel cats=""]