Headlines
Calendar photo competition runs again
Bayside South Development Forum is launching its local calendar photo competition again this year, with amateur photographers being invited to submit their best photos of the local area. Photos must be of locations within the 4178 and 4179 postcodes and twelve images will be selected for the 2016 calendar. Images will be fully credited in the calendar.
There are three categories for entrants…
Children (up to 12 years of age)
Teenagers (aged 13-18)
Adult (over 18)
Each entrant can submit up to three photos via the BSDF website, www.bsdf.org. Closing date is Friday 31st July and the winning entries will be showcased at the Wynnum State Fair on Saturday 29th August (10am-3pm).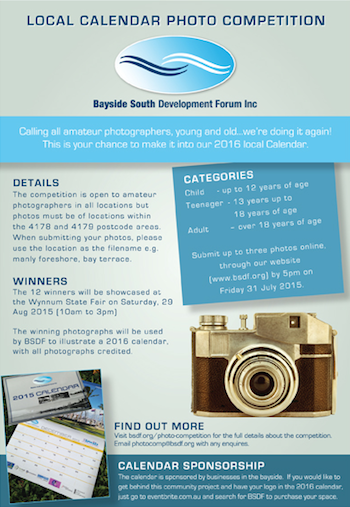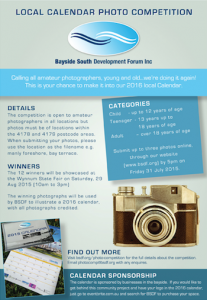 If you run a business in the bayside area, you will also have an opportunity to sponsor the calendar and get your brand/logo featured. Go to www.eventbrite.com.au and search for BSDF to sponsor the calendar.
Get your cameras out!
Image credit: http://www.pexels.com/photo/food-restaurant-camera-taking-photo-3022/
[posts_carousel cats=""]