A callout, or in military terms a 'Reveille' for war memorabilia from the last 100 years is being made for a special evening to commemorate a century of ANZAC soldiers.
The 'Century of Heroes' Gala is being held on Friday 17 April at the Shangri-La Gardens Function Centre in Wynnum West.
Shangri-La Gardens General Manager Valmae Richardson said:
"Having realised that 2015 was a special year with the Anzac centenary we thought we should do something as a community project that was a celebration of all those who have served our Country over the past 100 years. We decided to hold an event and to call it a 'Century of Heroes' and to make it a not-for-profit event and have priced it so that most members of the community could afford to attend."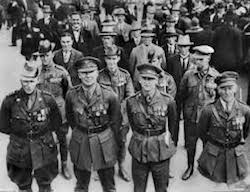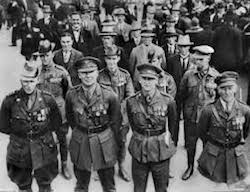 Valmae added "We are looking for the Wynnum Manly and Brisbane community to provide memorabilia for a display and stories of local identities who were involved in WW1, WW2 the Korean and Vietnam Wars. It could be a special letter which could be read to our audience giving an insight into the conditions of that era. "
Anyone with items of memorabilia they can loan for the evening should contact Valmae at Shangri-La Gardens on 07 3308 5100.
Valmae said "We will be encouraging people to wear clothes reminiscent of the various war periods and offering ration books to go with their meal. Music from the various periods will be provided by the Queensland Services Heritage and Bayside Youth bands."
The Rotary Club of Wynnum Manly is a partner for the event with proceeds going to Mates4Mates which supports current and ex-serving Australian Defence Force members who have suffered physical or psychological injuries or illnesses as a result of their service, either in Australia or overseas.
Gala details
Date: Friday 17th April 2015, from 1830 hours (that's 6.30pm if you're not of a military bent)
Where: Shangri-La Gardens Function Centre
1969 Wynnum Rd, Wynnum West
Bookings: $55 per head (pre-paid) includes ration book
Phone: 07 3308 5100
Dress: Formal, uniform or period mufti
Image credits: https://www.flickr.com/photos/state_library_south_australia/8165207915/ ; http://commons.wikimedia.org/wiki/File:VC_Anzac_Day_1927_P02349.005.JPG
[posts_carousel cats=""]