Last time we did a count of the empty shops in Edith Street around six months ago, we counted twelve. The other night the same count came to eight – so it's heading in the right direction. There's also an interesting mix of new occupants, with coffee shops and smoothie bars taking over retail units that were previously more traditional shops. Long may this trend continue!
We were prompted to review the survey we ran in Nov/Dec 2013 (see our previous article here) to see which popular outlet types we are still missing. Given that we can tick off the late night bar/diner, the tapas bar, the wine bar and the ice cream parlour, the next ones on the list were (with % support shown)…
Cinema 79
Sushi 53
Mexican Restaurant 44
Healthy Juice Bar 44 (we can tick this one off with Bay Blends in Edith Street)
Delicatessen 44 (although the previous deli – where Bay Blends is now – couldn't make it work)
Women's Clothing 40 (Juicy Secrets in Edith Street opened since we ran the survey)
Boutique Beer Cafe 36 (and you can get craft beer at Cedar & Pine in Bay Terrace)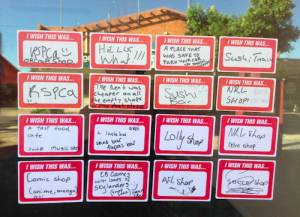 These are almost all entertainment type businesses that would open longer hours, so we're thinking maybe this would be an incentive for existing Wynnum businesses to open longer hours at the weekend. We live in hope!
Do you think we need to do another survey to see what people would like to see next, or shall we just keep going down the list? If you have any thoughts on this, or if you have any suggestions for what you'd like to see next, let us know in the comments below…
Image credit: http://commons.wikimedia.org/wiki/File:Eight_(film_start)_cropped1.jpg
[posts_carousel cats=""]