Headlines
Cinema name – People's Choice revealed
and the winner is…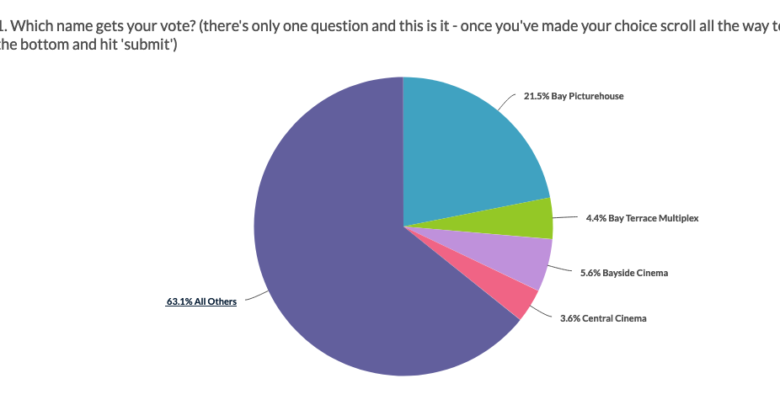 We had a big response to the callout for name suggestions and voting for the new Wynnum cinema! There were 701 votes cast in total across 194 name suggestions. And the most popular name was…
(DRUMROLL)
Bay Picturehouse with 21.5% of the vote (151 votes)
Followed by the runners up (a fair way behind)…
Bayside Cinema 5.6% (39 votes)
Bay Terrace Multiplex 4.4% (31 votes)
Central Cinema 3.6% (25 votes)
So Bay Picturehouse is the People's Choice.
The survey tool we used did allow more than one vote per IP address (ie per device) – this was primarily so that different members of a household could vote on the same device. Suffice it to say some people definitely took advantage of this!
Ultimately it is of course up to the developers to choose the final name (as per The Small Print below) but they now have 194 suggestions to take into consideration and an indication of what 701 locals would like to see!
The Small Print
• The developers are free to name the complex any name they choose and are not obliged to use the most popular name or any of the suggested names
• Some name suggestions may be omitted from the final list at the discretion of the organisers
• The organisers of the naming process and the draw are Berrima Develop Pty Ltd and their decisions relating to the process are final
PRIZE WINNERS
At the same time we ran a draw for everyone that suggested a name and gave us an email address where they could be contacted. The prizes were…
1st prize
A Wynnum Entertainment Pack (worth $200) to spend at a range of Wynnum Central retailers along with 12 cinema tickets valid for 12 months from the opening date of the new cinema (worth $100)
PLUS
3 prizes of a pack of 12 cinema tickets valid for 12 months from the opening date of the new cinema (worth $100 each)
And the winners were…
1st Prize P. Stewart
2nd Prize J. Barnett
3rd Prize B. Burnett
4th Prize C. Thomson