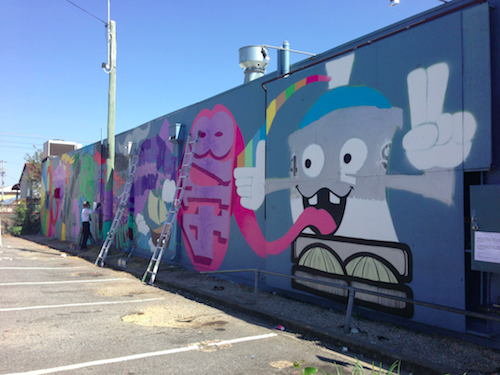 This article was originally published on 6th September 2013.
Have you seen the new mural going up in the car park near Blockbuster on Tingal Road? It's part of the Wynnum Walls and Colours Project Crew, which is a project of Brisbane City Council in partnership with local youth and community partners. The aim is to increase Brisbane's vibrancy by creating community murals and at the same time increase young people's connection, pride and sense of identity with the local area.
The mural will be officially launched on Tuesday 17th September at 4pm – all are welcome.
We asked the guys at Blockbuster and at Dramanti's coffee bar what they thought of it. The answer was 'Great!!'
PS Have you seen how they have built the Wynnum seaside colourband into the mural, along with the postcode?
What do you think?