Headlines
Have you seen the new tree lights in Wynnum Central?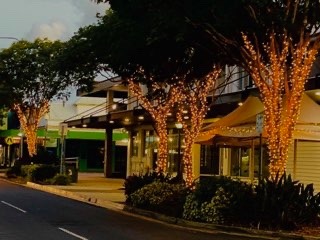 Wynnum Manly Events Inc – the folks that brought you the Illuminations Festival and the cinema in the laneways – have been beavering away behind the scenes to lighten up Wynnum Central – literally.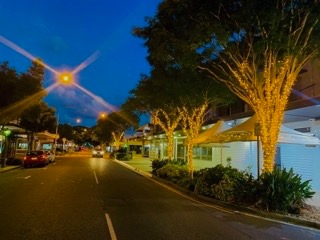 As just the first part of a larger tree-lighting project for the centre of Wynnum, the first trees in Bay Terrace were switched on recently on a test basis (you'll see in the photo there are two more wired up but not lit). If everything goes according to plan, more trees will be lit in the same way in the main streets of Wynnum Central, making a total of 20 in Bay Terrace alone.
Sponsors of the tree lighting project include…
thinktank architects (who designed the tree lighting)
Keid In Electrical (who are installing the tree lighting)
The Coffee Club
The Waterloo Bay Hotel
Wynnum Manly Events Inc
Re/Max
Giant Games
Ian Fry & Co
Sobidah Clothing Co
Cedar & Pine Bar
Wynnum Business
Roll on late night shopping – once we're all allowed out again!