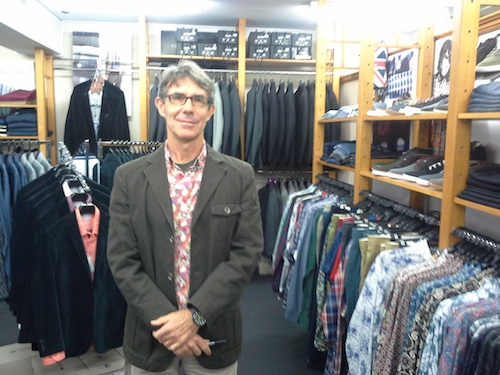 Trends come and go but DBS Menswear in Edith Street has been helping to keep the Wynnum community abreast of fashion for over twenty years.
Peter and Colleen Hellen lead a team offering personal service with knowledge of trends and providing honest advice on men's grooming. Peter came into the business with his father who bought the menswear store in 1982 after a successful period of running a jeans business in the 1970s. They saw the Wynnum area as having potential.
The store's heritage goes back to 1946 when it was originally a hardware store run by three WWII veterans, Frank Davies, Eric Bingham and George Sands (DBS) selling vinyl flooring in the postwar years. It developed into selling soft furnishing, fabrics, manchester, apparel and gradually developed into a menswear store. Today it stocks everything from surfwear, fashion and suits.
Peter enjoys the creative process in advising men with coordinating their clothes. "We've been here long enough to see three generations of the same family shop with us."
It's not uncommon for a mother or wife to come in and ask Peter to 'pick a shirt' based on the knowledge he would have of the recipient. It's all part of the philosophy of "knowing your customer" as Peter explains "and being able to pick the products that customers need whether for an interview, business meeting or formal occasion. It's helping the customer feel confident in what he is wearing."
Trends come and go often in fashion with a current leaning towards retro vogue from the 1960s and 1970s featuring narrower suits, shirts and pants. Peter has to be aware of trends so attends trade shows interstate a couple of times a year and also uses a national and global network of contacts.
However, it's important as Peter says "to listen to your customers needs."
Peter sees the strength of Wynnum as the convenience of local shops and its friendly and hospitable ambience. He thinks the 'the only way up' for Wynnum is for higher density housing in the business precinct with the retail and services it can provide close to good transport links and the beautiful Bay views.
Peter and Colleen live in the area and their children have been brought up attending the local schools. Peter loves Wynnum for its geography with its proximity to Moreton Bay, foreshore, islands and convenience to the city. He sums up the lifestyle as "being a stress free suburban precinct." This adds to the philosophy that he and Colleen have in living a healthy lifestyle with wellbeing a priority. Being an avid surfer helps in this regard.
Peter has been a past president of the Wynnum Village Chamber of Commerce as it was previously known. When away from the shop they both enjoy travelling and to get involved in the community when possible.
There's no doubt that the fashion direction of future generations of Baysiders is in safe hands with Peter and his staff at DBS Menswear.
http://www.dbsmenswear.com.au/
DBS Menswear are Members of WynnumCentral