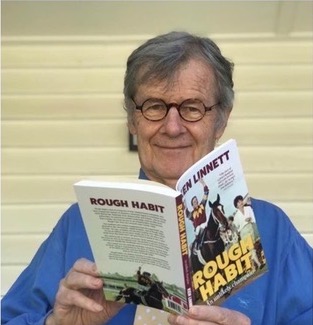 Local author Ken Linnett has no illusions about the pitfalls of publishing. In 2017-18, his book about the famous racehorse Tulloch and his era (1950s-early 1960s) won an award, was rated in the top five Australian sports books of 2017 and sold out.
Buoyed by this, Ken tackled another horseracing book. Again, he wrote about a NZ-born horse. The horse, Rough Habit, looked small and daggy; onlookers bagged him as hopeless. But during the 1990s, Rough Habit made fools of his critics by becoming a cult hero on Queensland racecourses.
Unfortunately, the book Rough Habit: An Unlikely Champion, was released in April-May 2020 just as Australia began to combat the COVID threat. The planned big launch had to be abandoned and the book never recovered.
After more than two years, the author and his book will finally get their first public outing at 1.30pm on Tuesday, October 25th at Wynnum Library (more details here).
Last time Ken spoke at the library, he delighted his audience by tipping the 2019 Melbourne Cup winner run a few days later. During his October 25th session, he hopes to do the same for the 2022 Melbourne Cup.
Ken is a member of Wynnum Business and supporter of WynnumCentral.