A few years ago (2013 to be precise) at the time when the Wynnum colourband and tagline 'Wynnum – Brisbane's Seaside' came into being, streetlight banners appeared in and around Wynnum promoting the new branding, supported by a number of local businesses who sponsored individual banners and got some of their own branding at the foot of the banner.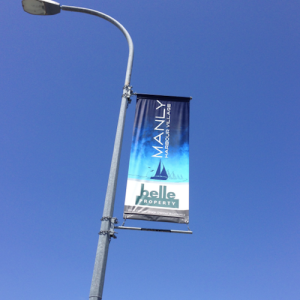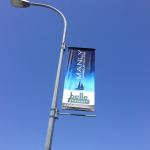 Shortly after, Manly took a leaf out of Wynnum's banners and produced their own.
Banners only have a life of around two years and after that they get a bit tatty, and so with the demise of the Wynnum Chamber, the banners were not replaced and came down, while the Manly ones have stayed up.
This year the organisers of the Illuminations Festival – Wynnum Manly Events Inc – are bringing the banners back, with a component of the sponsorship cost paid by businesses sponsoring the banners going to support the Illuminations Festival and other events held by the group.
At WynnumCentral we'll be delighted to see the banners back, bringing some colour to the local area (well, a lot of colour given the colourband!) and at the same time generating funds for the Illuminations Festival, which last year drew in around 15,000 people to the area.
If you are a local business and would like to buy a banner or two (or more), full details are here…
http://www.wynnummanlyevents.org/banners.html
Banners are $1,000 each and will stay up for two years.
Previous coverage of the banners…
https://wynnumcentral.com.au/banners-are-up/
https://wynnumcentral.com.au/more-about-street-signs-in-wynnum-and-manly/
https://wynnumcentral.com.au/lord-mayor-to-launch-wynnums-new-look-seaside-colourband-at-the-wynnummanly-water-tower-next-week/
---
[posts_carousel cats=""]