Headlines
Madhatters go from strength to strength
Nearly two years after its launch in February 2013, the Madhatters group for local ladies over 55 who want to have some fun, is alive and kicking. With around 35 ladies participating, the group does anything from trips to local restaurants to trips around the world (see our previous story). The more ambitious members have already signed up for a cruise, following on from last year's trip around South America and a side trip to Hong Kong and Macau.
Later this year there are trips planned to see Wicked at QPAC (February) and the Savoyards musical at Iona College (March).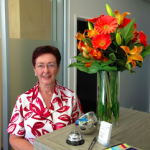 Founder Jill McGregor (pictured) explains the appeal of the group,
"There are no committees, no membership fees, just a group of ladies who are keen to socialise together for anything from coffee and cakes to trips near and far. Each member 'hosts' a meeting at her favourite restaurant once a year, usually at the weekends, but sometimes also mid-week. We've also got a book group, a cinema group and a travel group. It's each to their own!"
If you fit the profile and would like to join in, contact Jill on 07 3348 3354 or via email at madhatters2013@hotmail.com.
Image credit: https://www.flickr.com/photos/dullhunk/6988798734/?rb=1