Donna and John have a passion for bikes along with their staff who between them clock up over 1000 kms per week on their own runs. One of their team even runs his own successful racing team.
It all helps to personalise the service they give to their customers at their current Tingal Road store (they were previously in Glenora Street closer to the Wynnum foreshore). Rival Bikes had grown over nearly five years to the point where they needed new premises, which they now have on Tingal Road.
The original shop developed out of particularly John's family association with cycling which he grew up with from an early age. Donna loves the recreational side of cycling with the health and lifestyle benefits it brings and has encouraged her children to be active participants.
Donna sees cycling as accessible to everyone with the additional health benefits she says "as being a great outdoors activity that requires no fees to join. Here near the Esplanade and Bay you can make use of the natural environment and get healthy at the same time."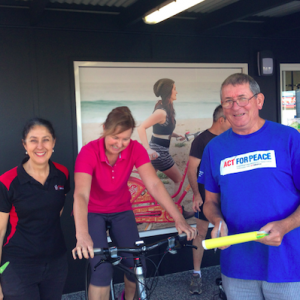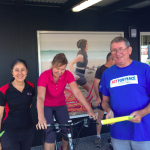 Donna and John have seen some tremendous and rewarding results with customers getting healthier and losing weight. One couple recently lost over 100 kgs between them. The Rival Bikes team have seen customers go on to do triathlons and iron men competitions although as Donna says "Everyone can make their own goals without having to be the best."
Their customers cover the whole age range from one year olds wanting a balance bike to a recent eighty-eight year old who wanted to get back on a bike. One of their customers is just six and is competing in a world BMX championship in The Netherlands. They even had one rider on the recent Brisbane to Bay charity bike ride who 'popped in' and bought a new bike citing that he was 'fed up' with his existing bike whilst on the ride.
The bicycles on offer range from beginners to top of the range road and mountain bikes with a price tag of over $13,000. You can even get your own bike personalised with the TREK Project One range where you can choose your colour, gearing, wheel set and a design to include your name or business.
Rival Bikes has been active in the Wynnum Manly community, supporting the Bayside Multi Sports Triathlon and local schools. They provided a pit stop at their old shop in the 2014 Ride to Conquer Cancer event and have created their own new 'pit stop' with their move closer to Wynnum Central at Tingal Road. There, with larger premises they can to offer a new bike fitting facility and continue to offer personal group rides from the shop.
John, Donna and the Rival Bikes team certainly have a great love for bikes and affinity with their customers and with Wynnum. As Donna says, "Wynnum has got everything on your doorstep and is a great place to live with the Bay and the health opportunities it provides. Why would you want to live anywhere else?" And as Donna adds quietly, "It is Brisbane's best kept secret."