Last week Lord Mayor of Brisbane Graham Quirk was spied down at the old school site officially opening the construction site by 'turning the sod' with construction company De Luca Corporation's general manager Nic De Luca, Woolworths QLD manager Michael Lange and fellow councillor Krista Adams. The new library on the site is scheduled to open by February 2016 (although in fact no date was given for the opening of the new supermarket – we presume a similar date).
Read more about the development on Brisbane Times here…
Construction to begin on Wynnum's self-funded library
Cr Peter Cumming also said about the development recently…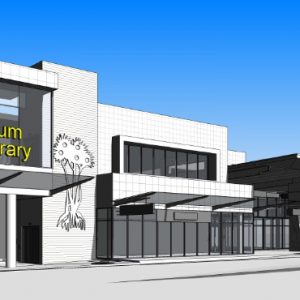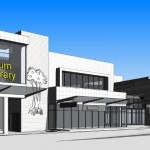 "Wynnum Central State School site redevelopment works project start
I am pleased to announce that works to redevelop the Wynnum Central State School site are soon to start and are expected to be completed by the end of 2015, weather and construction conditions permitting.
The works will involve refurbishment of the red brick building into a community centre and the construction of a commercial precinct on the western side of the site, including a new library on the first floor.
The upgrade and refurbishment works for the community centre will be completed in
mid-2015 and include: space for community groups; a shared kitchen; toilet facilities and a new elevator.
The development and construction of the commercial precinct will be undertaken by the City of Brisbane Investment Corporation (CBIC) and will include: retail space; a new library and car parking facilities.
Construction work will generally take place between 7am and 5pm, Monday to Saturday. Some works will need to occur at night for safety and traffic management reasons.
During construction, local residents and businesses may experience construction noise, increased heavy vehicle movements, dust and vibration. Traffic controllers and signage will be in place to assist road users and pedestrians where required and safe pedestrian access will be maintained at all times.
I will keep you updated on the progress of this development."