Headlines
Swap your box of cereal for a free cup of coffee in Wynnum next Tuesday
The brainchild of Phil Sargeson of PS Creative graphic design (and previous gold sponsors of WynnumCentral), Cereal For Coffee is an initiative to draw attention to a little known issue often only picked up by teachers – the large number of schoolkids turning up to school hungry.
"One in three schoolchildren are going to school hungry." says Phil. "How is that acceptable in today's society, in a first world country?"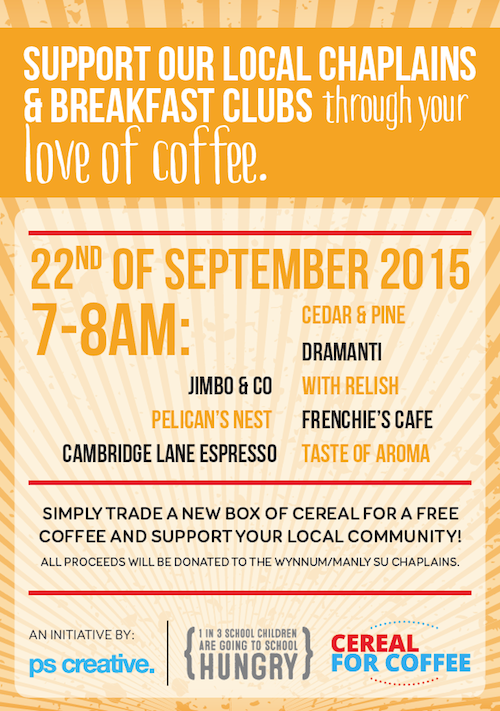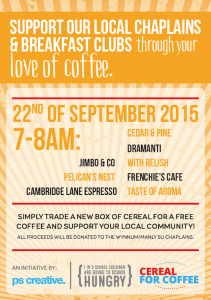 And hunger is not just uncomfortable – research indicates that an average student loses more than two hours a day of learning time when they come to school without having eaten anything for breakfast.
Cereal For Coffee aims to help change this. On Tuesday 22nd September eight local cafes are joining together to support the cause. On that day – between 7am and 8am – you will be able to swap a box of cereal for a free cup of coffee. All donations will go to the Wynnum/Manly SU Chaplains, who are in a position to help hungry kids at their respective schools.
The participating cafes are…
Cambridge Lane Espresso (Manly)
Cedar & Pine (Wynnum Central)*
Dramanti's (Wynnum Central)**
Frenchies Cafe (Wynnum Central)*
Jimbo & Co (Wynnum)
Pelican's Nest (Wynnum)
Taste of Aroma (Wynnum Plaza)
With Relish (Wynnum Central)
*these cafes are members of WynnumCentral
** Dramanti's will also run the scheme on Monday 21st September
---
[posts_carousel cats=""]