Headlines
The new sport of Geocaching arrives in Wynnum
Once you've finished casting your vote in the council elections on Saturday 19th March, you might want to try a spot of 'geocaching'. Don't know what it is? Here's the (semi official) explanation…
Geocaching is a rapidly growing outdoor recreational activity, in which participants use a Global Positioning System (GPS) receiver or mobile device and other navigational techniques to hide and seek containers, called "geocaches" or "caches", anywhere in the world.
A typical cache is a small waterproof container containing a logbook (with a pen or pencil). The geocacher enters the date they found it and signs it with their established code name. After signing the log, the cache must be placed back exactly where the person found it.
Larger containers such as plastic storage containers (Tupperware or similar) or ammunition boxes can also contain items for trading, such as toys or trinkets, usually of more sentimental worth than financial . For more information go to https://en.wikipedia.org/wiki/Geocaching.
There are over 2.7 million Geocaches hidden around the world and more than 8 million people have found a cache (geocaching.com). Geocachers come from far and wide to find unique caches and often schedule trips and outings around geocaching. Geocaching is free to play with the option for a yearly subscription of $30 to access extra caches and features.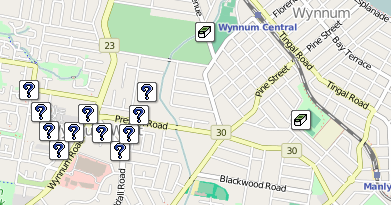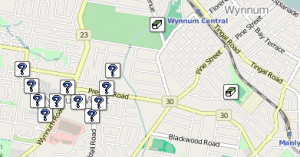 A relatively new arrival to the area, Dirk Kieseker (who goes by the geocaching name of Monarchs Dual) noticed a bit of a hole in the geocaching map in Wynnum and decided to create a big 'W' in the district, which he did with the help of local caching teams Linden/6 and VennFamily, who now go by the name of the SEA (South East Alliance). Pun/s intended all round.
This is significant because whilst the idea has been done on bigger and better scales elsewhere, this is the first GeoArt within 500kms. The alliance has created a series of puzzles that involve participants answering questions about Wynnum to determine the final coordinates of a cache. By posting these puzzles at "false" locations they have created the piece of 'GeoArt' in the shape of a giant 'W'.
If you would like to take part in the geocache, it will take place between 10am and 1pm on Saturday 19th March.
More information at https://www.geocaching.com/geocache/GC6B7K4_morning-by-the-seaside
Explanatory note from the organisers
The posted coordinates on the map shown do not have caches hidden at them. The question mark icons simply represent a puzzle and a way to access a digital page where users are presented with a puzzle to solve. The green boxes represent a traditional style that is hidden at the posted coordinates. As you could imagine it is hard, but not impossible, to create GeoArt with traditional caches, which is why we choose to create puzzles that reflected the people, places and history of Wynnum. There are eleven puzzles in total.
---
[posts_carousel cats=""]