About 18 months ago the Wynnum & Districts Chamber of Commerce formed a sub-committee charged with encouraging the redevelopment of the central shopping area in Wynnum – the Wynnum Redevelopment Taskforce.
The main focus of the Taskforce was to encourage existing property owners and potential developers to work together to take advantage of the relaxation in building height restrictions when Brisbane City Council moved maximum height to eight storeys in central Wynnum, with five storey buildings permitted slightly further out.
To understand the view of the residents of Wynnum, the Taskforce also conducted a survey in May 2012 which showed widespread support in the community for redevelopment.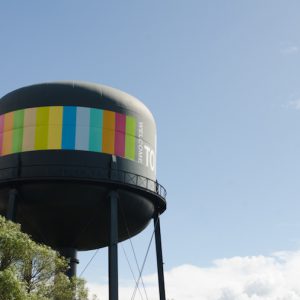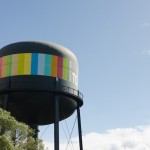 At the same time the Taskforce asked Think Creative, a Brisbane-based creative agency (whose founder grew up in Wynnum) to come up with a 'brand update' for Wynnum. The thinking that came back was that the use of the term 'Bayside' was overused and applied to many waterside suburbs in Moreton Bay. Instead Think Creative suggested 'seaside', given that Wynnum is in fact the closest beach to the Brisbane CBD, and the brand they came back with – the Wynnum colourband – is designed to be reminiscent of those old fashioned beach deckchairs and the multi-coloured beach huts. So the colourband was born.
Since then the Taskforce has produced bumper stickers, now proudly worn on car bumpers by many Wynnum residents, and the latest incarnation of the colourband is on one of the water towers at the end of Preston Road near the border between Manly and Wynnum. Use of the colourband is free to any Wynnum resident or business, and the free bumper stickers can be picked up  at the Wynnum & Districts Chamber office in Florence Street.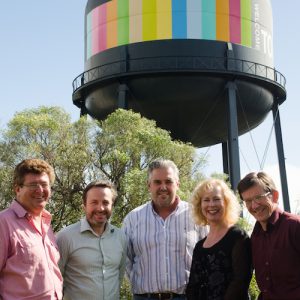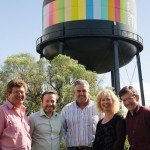 To add a bit of fun to the bumper sticker campaign the Taskforce is running a draw – once a month (more or less) a car wearing the sticker is picked at random and the car owner wins a prize. The first two winners have been drawn already and won a meal for two at Casa di Louie in Wynnum and breakfast for two at Shangri-La Gardens respectively.
A bonus prizewinner – one of the six winners – will go on to win a half day cruise on Moreton Bay on the Spirit of Koomooloo yacht.
For more information on the Taskforce and the Wynnum brand update, head over to the Taskforce's website – www.wynnummanly.org.