This is the first in a series of 'whacky ideas' that Wynnum might want to try, just for fun, but of course also to encourage more people to visit Wynnum, whether they live close by or far away. Feel free to contribute your own whacky ideas and we'll put them up here.
We'll kick the series off with our very own whacky idea –
Wynnum Ambassadors to the G20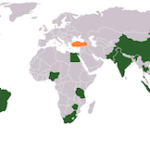 We'd nominate a series of Wynnum Ambassadors to the G20 nations that will be visiting Brisbane soon. You can nominate yourself or someone else and we'll hand out the positions on a 'first come first served' basis. Unfortunately none of the positions are paid! As Ambassador you'd need to get in contact with your appointed country and invite their G20 delegates down to Wynnum (or we can do it for you if you like). You never know, you might get a posting!
Here's the bad news – the position of ambassador to Italy has already been taken.
Here are the G20 nations (just as a reminder)…
Argentina
Brazil
Canada
China
France
Germany
India
Indonesia
Italy
Japan
Korea South
Mexico
Russian Federation
Saudi Arabia
South Africa
Turkey
United Kingdom
United States
Plus of course Australia and the European Union, but they don't count. There are also a few 'guest' countries:
Mauritania
Myanmar (Burma)
New Zealand
Senegal
Singapore
So take your pick and let us know ASAP.
All the whacky ideas
Whacky ideas for Wynnum No. 2
Whacky ideas for Wynnum No. 3
Image credits: http://upload.wikimedia.org/wikipedia/commons/3/33/Cumbre_G-20-Washington.jpg; http://upload.wikimedia.org/wikipedia/commons/d/d2/G20_countries_(DN).png