Headlines
Who does their Christmas shopping in Wynnum Central?
We ran a quick poll in the run up to Christmas asking whether people had already done their Christmas shopping or whether they left it until the last minute. We also asked how much of their Christmas shopping they were planning to do in Wynnum Central. The results are now in. Of the 54 people who responded, the vast majority (85.2%) had either completed it all or had done most of it by 23rd December.
The remaining slackers had done some of it, while a brave 1.9% hadn't even started.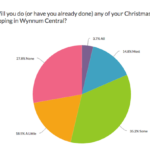 In terms of where people were doing their Christmas shopping, 27.8% did none of it in Wynnum Central and a resourceful 3.7% had done all of it in Wynnum Central. Around a third of respondents were doing 'some' in Wynnum Central and 14.8% doing most there.
See the full results here…
http://data.surveygizmo.com/r/411558_585b4e4c75db59.55804138
---
[posts_carousel cats=""]