Headlines
Wynnum Herald suspends print edition
For how long? No-one knows.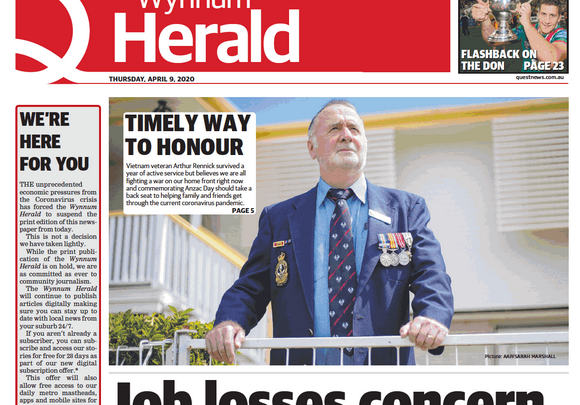 This week's Wynnum Herald is the last printed edition of the paper until the current COVID-19 restrictions are lifted. A statement on the front page of this Thursday's paper says…
"The unprecedented economic pressures from the Coronavirus crisis has forced the Wynnum Herald to suspend the print edition of this newspaper from today. This is not a decision we have taken lightly."
With the Federal Government strongly suggesting that current restrictions may last a minimum of 3 months (but probably 6 months), readers of the Wynnum Herald may have a long wait.
As an alternative the Wynnum Herald is inviting readers of the print edition to subscribe to the digital edition of the Courier Mail, which incorporates stories from the Wynnum Herald – type in wynnumherald.com.au and you are redirected to https://www.couriermail.com.au/questnews/southeast. They have a current offer of a 4 week subscription free of charge, thereafter $14 for the following 28 days, rising to $28 every 4 weeks after that.
Alternatively you can sign up to the Quest Community News email (the Wynnum Herald is a Quest publication) on the same page, which will send you South East Brisbane local news stories, but if you are not a subscriber some of these may be behind a paywall. During the current restrictions the Courier Mail and Quest are – in the public interest – allowing full access to many (but not all) articles concerning COVID-19 and changes to restrictions.
There is also another way of viewing the Wynnum Herald online and in its printed format at http://quest.smedia.com.au/wynnum-herald/, however our guess is that this will not continue while the printed edition is suspended.
News Corp, owner of the Courier Mail and Quest local papers (including the Wynnum Herald), announced on Wednesday 1st April that they were suspending 60 community newspapers in NSW, QLD, VIC and SA from 9th April. News Corp Australasia Executive Chairman Michael Miller said…
"The suspension of our community print editions has been forced on us by the rapid decline in advertising revenues following the restrictions placed on real estate auctions and home inspections, the forced closure of events venues and dine-in restaurants in the wake of the Coronavirus emergency."
"The print suspension will allow us to assess the shape of the market itself and future conditions, taking into account how the coronavirus situation unfolds in the coming months." he added.
WynnumCentral originally heard the news on the morning of 1st April, but decided to wait until we knew for certain it wasn't an April Fool's before sharing the news…