Headlines
Wynnum Weekend Warriors – The Green Bean
This week we highlight another Wynnum business that is bucking the trend and opening after 1pm on a Saturday.
This week's Wynnum Weekend Warriors are… The Green Bean cafe in Edith Street.
Last May new owners Bec and Jo took over from Cyrus and his wife, who decided to retire after running the cafe for many years. They have instituted a few changes to the cafe while keeping the essence of The Green Bean. One of those changes is the introduction of an afternoon of music and entertainment once a month, running until around 4pm, with chairs and tables extended outside underneath the awnings.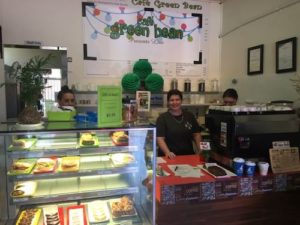 WynnumCentral happened upon the last of these last month, when duo Scarlet Gunner were entertaining the crowd. We take our hats off to the ladies at The Green Bean and look forward to seeing more music and entertainment in Edith Street on Saturday afternoons.
At time of 'going to press' we did not have a set date for the next one – check with The Green Bean for details.
More Wynnum Weekend Warriors next time.
---
[posts_carousel cats=""]