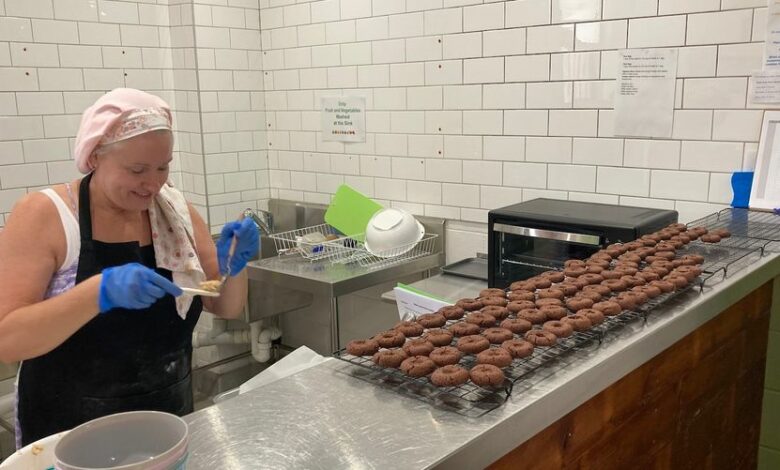 Although Coeliac Disease – a severe reaction to foods containing gluten – affects only roughly 1.4% of the population in Australia, a 2020 report in the Medical Journal of Australia found that 14% of those surveyed self reported a 'non-coeliac wheat sensitivity' and a huge 24% reported that they avoided gluten some or all of the time*.
Gluten intolerance – or at least the number of people avoiding gluten – has risen steadily from around the 1990s, when scientific studies confirmed that gluten did cause a reaction in some people, and these numbers continue to rise today.
When it comes to vegan food, there are a whole lot of reasons why people choose a vegan or partially vegan ('plant-based') diet. Although there are fewer vegan/plant-based than gluten free people in Australia (2% vegan and 5% vegetarian), the trend is there – 18-34 year olds are twice as likely to be vegan than the average Australian**.
Taking on board these stats, brand new Wynnum business Mandala VGF (https://mandalavgf.com.au/) could be accused of killing two birds with one stone by opening a vegan and gluten free food manufacturing kitchen in Florence Street. And you can probably guess what 'VGF' stands for!
Business owner Catherine Bateson explains why she decided to set up the business…
"A few years ago my husband decided he wanted to give up gluten, not because he had any reaction to it, but because some research he'd done indicated that giving up gluten was beneficial for longer term health and he wanted to see if he could 'live without it'. Clearly he could. Then a little later he read some other studies which concluded that a plant-based diet would again be healthier in the long term than an omnivorous diet… and promptly turned into a vegan as well. This made it pretty difficult to produce a meal every night that the whole family could eat, but we found a way through it and now, although we're not all vegan and gluten free, it's relatively easy to cook for everyone, plus now we all eat a little bit more fruit and vegetables, which has to be a good thing! Looking at products in the shops and also menus in cafes and restaurants, you can generally find gluten free options and vegan options, but very rarely the two together, so I decided that something had to be done for this growing segment of the population, and so Mandala VGF was born."
Just before Easter, Mandala VGF was certified by Brisbane City Council as a food manufacturer and now produces a range of vegan and gluten free cookies and tarts out of the Florence Street kitchen.
The facility is vegan AND gluten free, which means that there is no chance of contamination of products with either animal protein or gluten, and all current (and future) products are both vegan and gluten free. The business aims to achieve endorsement for its products from both Coeliac Australia and Vegan Australia. Catherine also plans to introduce a much broader range of products, including savoury items.
Where can you get Mandala VGF products?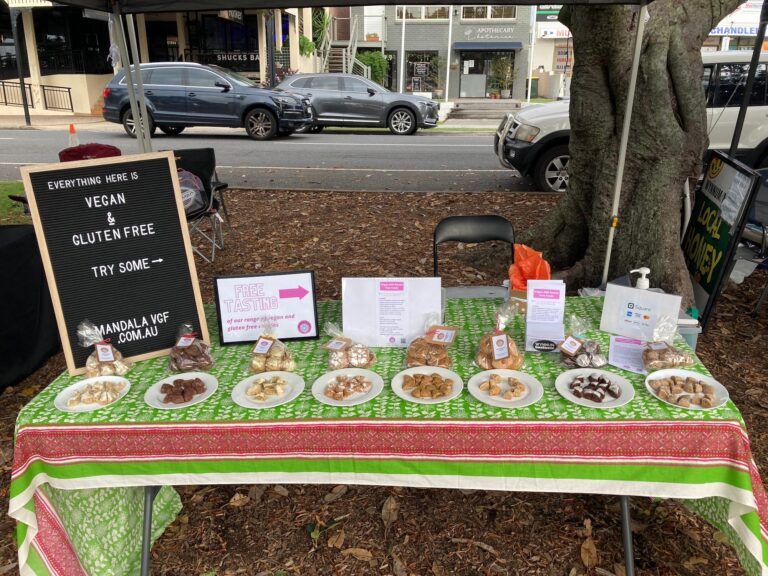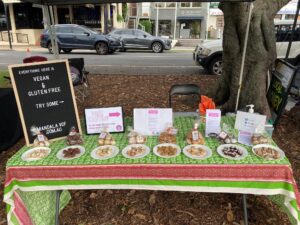 The business has an online shop at its website – https://mandalavgf.com.au/shop/ – and products can be delivered right across Australia, or can be bought online and picked up from the 'factory shop' in Florence Street.
Mandala VGF also has a presence at markets (currently the Manly Market on Sundays – pictured left) and other events and will be participating in Wynnum UpLate this Friday, offering free tastings in the street.
The business is also currently approaching cafes, restaurants and specialist outlets in Brisbane to see if they would like to offer their products.
Let's not forget Mother's Day
Mandala VGF also has a few Mother's Day options for mums who are either gluten free or vegan or both. Check out their Mother's Day page here.
Of course you don't have to be vegan and gluten free to like their cookies and tarts, but if you are one or the other, they are (surprisingly perhaps) a great tasting alternative to the traditional options. Although we may be biased!
Where you can find Mandala VGF and/or their products…
At the factory shop at 5/124 Florence Street – free tastings 9am-11am every Saturday
Wynnum UpLate this Friday 6th May 5pm-9pm
Manly Markets this Sunday 8th May 7am-2pm
Stockists (Mother's Day Gift Packs)
FoodWorks Wynnum West (Wynnum West Shopping Centre)
Mates Restaurant & Bar (Edith Street Wynnum)
Aaalora Florists (Edith Street Wynnum)
Check out Mandala VGF online at https://mandalavgf.com.au/ or on Facebook at https://www.facebook.com/mandalavgf
Mandala VGF is a Member of Wynnum Business and sponsor of WynnumCentral.
*3.8% of those surveyed avoided gluten all the time
**https://www.choice.com.au/food-and-drink/meat-fish-and-eggs/meat-substitutes/articles/plant-based-food#how-to-make-oat-milk
Take our WynnumCentral poll…