Headlines
Wynnum UpLate is on again
This coming Friday 6th May 5pm-9pm
UPLATE LATEST UPDATE…
Le Busté will have Adelaide Albright (@adelaidealbright) curvy burlesque showgirl for the night and Curvy Influencer Kate @itskatejanmaree as special guests. Plus it is Of course it is Le Busté's first birthday in the shop in Edith Street.

-0-
Wynnum UpLate is on again this coming Friday 6th May 5pm-9pm – quite coincidentally just a few days before Mother's Day! So whether you're shopping for something for your mum or you're just browsing, come on down!
So far we know the following 25 businesses will be taking part…
1. Auddal
2. Bay Blends
3. Bayside Soap Supplies
4. Chocolate Elements
5. Cultivate Design Co.
6. Fleur by Ellie
7. Florence & Cornelius
8. Frenchies Café
9. Funky Flamingo
10. Gigglefit Grammar
11. Got-A-Go Boutique
12. Hearty Art Studio
13. Le Busté
14. Lewis & Philp
15. Mandala VGF
16. Matilda the Art of Gelato
17. Save The Children
18. Simply Bella
19. Sobidah Clothing Co.
20. Sonny Jim's Menswear
21. The Coffee Club
22. The Collective Store
23. The Eclectic Mix
24. The Little Toy Tribe
25. Wynnum Fine Jewellers
(members of Wynnum Business in italics)
WynnumCentral understands there will be a little map available to guide you around and also to record your purchases for the draw below (and to serve as your entry form).
As with previous Wynnum UpLates (is that the plural of UpLate?)…
If you make a purchase in 3 or more shops on the map you go into a draw to win a hamper worth more than $650
Sobidah Clothing Co. will be holding a fashion parade at their shop in Edith Street at 7pm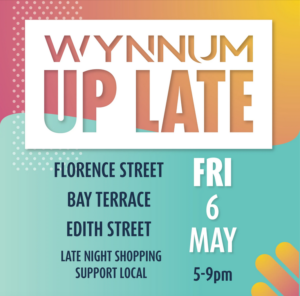 See you there!