A fixture of Wynnum Central for over fifty years, Manson Framers has been serving the Wynnum community and beyond with Art and Picture Framing, Art Supplies and Needlework Supplies, together with experienced and practical help.
Located adjacent to the Wynnum Central train station, the family-run business attracts customers from all over Brisbane and as far as Toowoomba and Byron Bay. The exceptional quality of the design and construction of the work inspire lifelong loyalty in many customers.
Manson Framers provide many other services besides framing. They have a comprehensive range of Art supplies for the professional and beginner, and a huge range of Needlework supplies and threads. They also boast qualified restoration artists. Keith is a qualified Painting and Paper Art restorer, his knowledge and skill keep him in great demand. Krissy is a Photographic Restoration Artist, with 30 years experience with bringing old damaged photos back to life.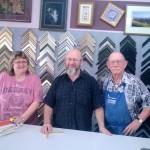 The business was created by Keith and Laraine Richardson in 1964. Keith, at 83, is still a hard working and integral part of the business.
Son Cameron, the powering force behind production, as well as Noelene and Sue, provide the extensive technical knowledge and attention to detail that result in a perfectly constructed piece of framed art.
Daughter Sharon, as well as dealing with the business side of the enterprise, researches and provides new and interesting art products, to the joy of their artist customers.
Jacquie and Krissy are the first stop in the process, and with their artistic knowledge and design skills, can help you to choose the perfect colour, style and techniques to display your art. They show you the tricks to enhance your art, while suiting your taste and style.
We also help artists of all levels of experience to achieve their artistic goals. We explain how different products work and how to apply them." says Krissy, "We can also direct artists to where they can find more extensive guidance, including the many classes and workshops in the area." she adds. "We have built a strong reputation over 50 years. Our creativity and our dedication to doing every job properly, with an emphasis on conservation without cutting corners, has given us an amazing extended family of artists and customers who stay with us year after year.
They certainly see themselves an integral part of the Wynnum Central community, and enjoy "the relaxed and happy atmosphere of Wynnum and its people." as Cameron puts it.
Manson Framers will continue for some time to come to add to the arty vibe of Wynnum, creating beautiful framing and helping aspiring artists to develop their talents.
Manson Framers is a member of Wynnum Business and supporter of WynnumCentral