Headlines
Beer and Phats at Cut 'N' Edge Barber Shop
A phat fade or face shave is more likely than a short back and sides when you visit Cut 'N' Edge Barber Shop. And why not make that a beer, juice or water to go with your cut along with their 'indulgent hot towel service'?
The barber shop has literally 'cut' its niche in the Wynnum hairdressing market since opening in April 2017 in Edith Street. A glass of wine with Green Bean owner Jo inspired Jenny Wilson to purchase the existing business and open up an upmarket barber shop. She saw there was a gap in the market to provide a quality men's barber shop, offering a range of cuts from simple trims to full head shaves for both men and boys. And it's the young male market that's on the lookout for different and trendy designs. A cut-throat shave is available from the experienced team – 55 years in all – led by manager Mike Eru.
A Kiwi, Mike has been cutting hair since 16 years of age, learning his cutting skills from an experienced mentor in a small New Zealand community. He was taught the art of cut-throat shaving using foam on an inflated balloon, with each pop teaching him a valuable lesson that he brought to the fore in his own salon in NZ, and then working in Brisbane.
Since moving to Australia in 2005 he has worked at a multitude of barber shops and seen the many new trends develop which Mike and the team are able to provide. 'Quality over quantity' is the mantra at Cut 'N' Edge with a focus on good customer service.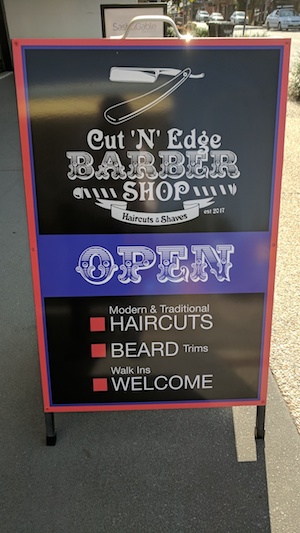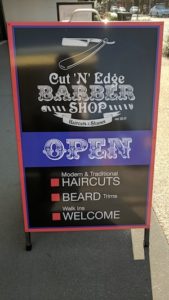 The barber shop is a new venture for owner Jenny who comes from a varied and experienced administration background. She was a PA in the Chief of Army Office in Canberra and has run motels and swimming pools in the Queensland outback. A move to Max Employment brought her to Wynnum where she loved its coastal village ambience. She lives on the foreshore and is a regular to the weekend Manly markets and the barber shop for a chat and catch up with Mike and his customers.
Jenny is optimistic about Wynnum from talking with other shop owners and seeing the growth in units in the area. With the opening of Cut 'N' Edge, it is sure to continue to add to the diversity of retail choice in Wynnum Central.
Cut 'N' Edge Barber Shop is a member of Wynnum Business and supporter of WynnumCentral
---
[posts_carousel cats=""]