An expansion into the digital world has seen new sales generated for the long established Wynnum Manly Loan Office in Edith Street. Facebook and eBay have been a way of selling the varied wares that the store stocks with electronic items such as tablets, laptops and mobile phones proving popular. A new release Apple phone or similar mobile updates sees an increase in the older models coming into the store. The online market is proving a good outlet for sales on a quiet day when the shop trade is slow.
The store sells more than just IT with an amazing range of paraphernalia from jewellery to sports equipment and an array of fishing rods, musical equipment and records.
"It is a good way for children to be able to start music lessons", says co-owner Yvonne who notes that the ukuleles are currently popular, helped by nearby clubs in Redlands and Cooparoo.
Binoculars are also moving off the shelves with the boaties on Moreton Bay and the rise of occupants in the Wynnum Central apartments who want to enjoy their nature and marine vistas.
The loan shop has even sold several cars along with child motorcycles and quad bikes. Pretty much anything is considered for sale or resale.
"Collectors come from all over South East Queensland for items such as replica guns" says Yvonne, standing with the indigenous artwork adorning the walls behind the main counter.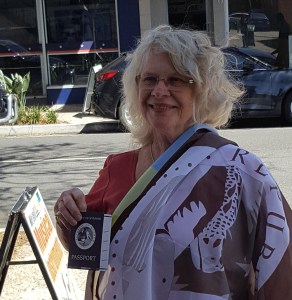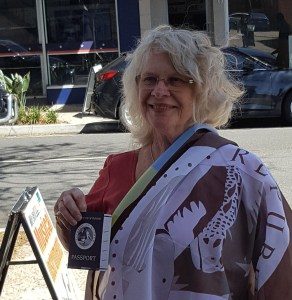 The store has been owned and run by Yvonne and husband George since 1992 with both Tim and Tracey adding to the family connection. The original store was established fifteen years prior at 70 Florence Street, with the move to the current Edith Street location in 2000.
The family migrated to Brisbane after 30 years in Papua New Guinea with Yvonne a bush nurse. Looking for a business to open, the family were living then on the north side and eventually saw the loan office for sale in Wynnum, and took it over in 1992.
They quickly settled into the Wynnum community enjoying the then flourishing business district and its country town appeal. It's a place where they can get to know their customers often seeing generations from some families coming to buy and sell items for home and school.
The Wynnum Manly Loan Office is very much part of the Wynnum landscape and – through the store and its online presence – plans to be around to see the precinct develop.
PS In case you didn't know… Wynnum Manly Loan Office co-owner is the current President of the Republic of Wynnum (although there are upcoming 'elections' in the next few days)
Wynnum Manly Loan Office is a member of Wynnum Business and supporter of WynnumCentral
---
[posts_carousel cats=""]