Our occasional column devoted to what's going on in Wynnum from a business perspective. This week…
New members
Next meeting on tourism potential of Wynnum
Development Notes
EOFY
Cybersecurity
Wynnum UpLate
---
New members
Over the past week Wynnum Business has welcomed a number of new members, including The Crystal Rose Gallery in Edith Street, Carers Link and Piccardi Legal in Florence Street. PLUG ALERT… Whether you run a business in Wynnum Central or in Wynnum or surrounding suburbs, you should join Wynnum Business and be a part of the new energy and revitalisation of Wynnum and Wynnum Central! (end of plug) More info on the Wynnum Business website…
---
Next meeting on tourism potential of Wynnum
Depending on when you read this you may still have time to come along to the next Wynnum Business BIT(e) – which stands for Business Information Technology (eat) – meeting this Monday morning (19th June) from 7am-8.15am at Wynnum Business member Monty's Place in Glenora Street. Local tourism expert (and Wynnum Business member) Kevin Liepins will be leading a short discussion on tourism opportunities for the Wynnum/Manly area as highlighted in a meeting organised by local State MP Joan Pease on tourism a few weeks ago. If you'd like to come along, you can book in here…
https://wynnumbusiness.org/events/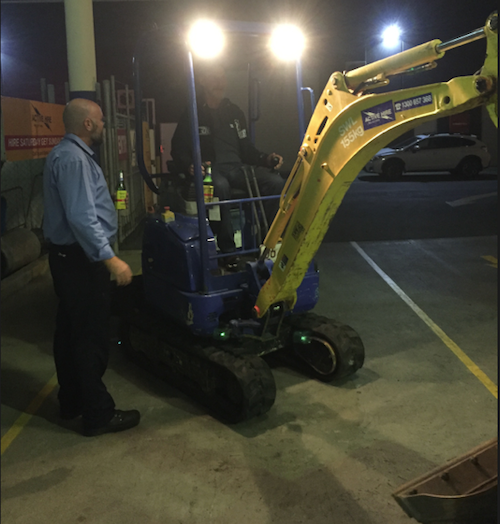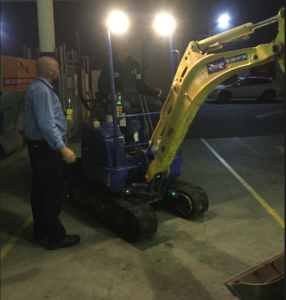 At the last meeting a number of attendees got to try out the equipment at hosts Active Hire, including a cherry picker, a bobcat (which took a bit of getting used to) and a digger. The photo shows Wynnum Business member Steve Dowden of Riverside Graphics trying his hand with the digger.
---
Development Notes
The Property Industry Foundation held its annual regatta in Wynnum Manly recently, inviting the who's who of the property development industry in SE Queensland to its annual yachting event in Waterloo Bay. The event showcases our waterfront precinct and point of difference – "Brisbane's Seaside"! Recognition of our unique and splendid environment is becoming more widespread, and the perceived inner city oversupply of apartments is inspiring some developers to the urban edge, ultimately providing more residential opportunites and retail enhancement.
---
EOFY
End of Financial Year is fast approaching and accountant Derek Miles of Wynnum Business member Financial Milestones advises talking to your accountant now to do some tax planning before 30th June – making sure you claim all deductions is only part of the job (and remember, membership of a business group or association like Wynnum Business is a tax deduction!).
---
Cybersecurity
Are you worried about the security of your IT systems? Wynnum Business member My Marketing Person has teamed up with cybersecurity expert Mario Bojilov to help businesses get to grips with the issues around cybersecurity.
He is running a series of 'hands on' style half day (4 hour) sessions on cybersecurity. Readers of WynnumCentral can access a discount on the course fee if you would like to go along to one of these workshops. Just enter the discount code DSCNT_B431-1 when you book in to save $20 on the course fee. You can find out more about the workshops and about Mario, and book in here…
http://www.mbs-academy.com.au/
---
Wynnum UpLate
Wynnum UpLate was on recently and it was pretty busy, with a giveaway and free glasses of wine and champagne on offer at many of the establishments. Wynnum Business member Sobidah Clothing Co organised a fashion parade on the night (main image) and here are some of the images from that show…