Stickers on empty shop windows were the inspiration for Wynnum Central's new ice cream parlour Ycel. Chris and husband Graham were wandering around Wynnum Central early this year and noticed there was no ice cream parlour. They read the stickers on the empty shops put there by Wynnum Central to ask the public what they wanted to see open, and an ice cream parlour was in the Top 5.
And so Ycel Ice Cream Galore was born with the resolve to bring quality ice cream and gelato to the Wynnum Central area and to do it in their own style. Chris claims it is the only 'Ice Cream/Gelato Shop' in the Wynnum, Manly, Wakerley and Manly West areas that can cater for everyone's dietary needs.
Ycel opened its doors in November at the Bay Terrace entrance to the IGA Shopping Centre on the corner with Florence Street. They explored franchise operations but steered away from it partly due to the expense and the lack of enthusiasm for any to open in Wynnum Central.
Licorice, Musk and Spotted Cow are just some of the unusual 36 products on display out of 50 that will be rotated, mostly sourced from a Virginia based supplier with products usually from within Queensland.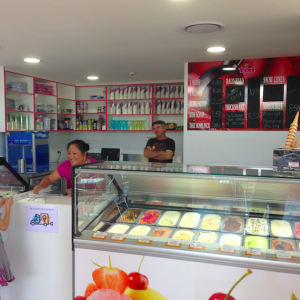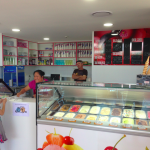 Gluten free fans will be drawn to the 'Whey Whip' selection from Australia's first high protein ice cream. Its low carb, low fat, no added sugar, gluten free and Whey Protein Isolate meets all the healthy ice cream tags, while Ycel's 100% Fat and Dairy Free sorbet range is perfect for diabetic customers.
And for those NOT on any diets the Cassata with its layers of chocolate, zabagalione and nougat ice cream, combined with a red cherry sponge is the ultimate indulgence. The Mile Gelato range has exotic names from Dolce Latte to the practical sounding Burnt Sugar.
Whilst Chris has taken on the venture with no catering background she has a good grounding in business management through her Diploma studies and has bundles of passion and enthusiasm for the business.
Chris moved to Wynnum in 2003 after 11 years in Hong Kong. Both Chris and her husband Graham, who is originally from Sydney, settled in the Wynnum community with the aim to develop a business in the local area. They love the Wynnum community spirit and the relaxed lifestyle with its close proximity to the Bay and the City just a short drive away.
As time permits in setting up a new business Chris loves to relax at home and enjoys cooking. Both she and Graham enjoy travelling overseas with plans for more sojourns in the pipeline.
And for Wynnum the outlook looks very 'frosty' for some time to come…