Hanging baskets project hits the news
This week the Wynnum Herald covered the hanging flower baskets project. You can read our last update on the project here – Hanging basket project nears trial phase. Smith Family partnership broker Lars Hall gives a little bit of background in the article, which you can read above. The project has received financial contributions from State MP Neil Symes, Federal MP Ross Vasta and Councillor Peter Cumming.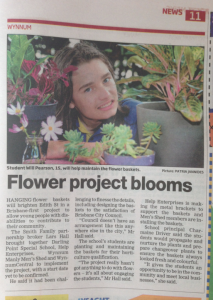 The trial will begin in the New Year.
Main image: http://www.geograph.org.uk/photo/3534348