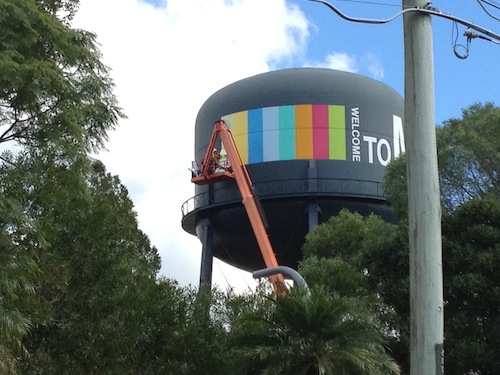 The two water towers at the Manly end of Preston Road are the highest point in the area – on a good day you can see them from Mount Coot-tha, as well as the Flinders building. Over the past several months the smaller metal one (the one that looks a little like Sputnik) has been remediated and has had a new paint job. But not just any paint job. You can now see the words 'Welcome to Manly' on one side and on the other – loud and proud – the new Wynnum colourband.
The new Wynnum colourband, devised by a Fortitude Valley based agency whose owner grew up in Wynnum, is designed to be reminiscent of old-fashioned beach deck chairs with their brightly coloured pastel stripes. The colour band goes with Wynnum's new moniker – 'Brisbane's Seaside'.
The agency was commissioned to come up with a brand update for Wynnum by the Wynnum Redevelopment Taskforce, a sub-committee of the Wynnum & Districts Chamber of Commerce.
There is also a free bumper sticker with the colourband you can pick up from the Chamber offices in Florence Street and stick on your bumper to be a part of the 'new Wynnum'. As a bit of fun there is also a competition running where prizes can be won by owners of cars sporting the sticker. The last winner was Paula Thwaites who won a breakfast for two at Shangri-La Gardens. More on the brand update at www.wynnummanly.org.
What do you think of the new colourband? Let us know below.