Headlines
Is Nundah a better model for Wynnum than Bulimba?
A recent article in the Courier Mail tracks how the northside suburb of Nundah has recovered from being bypassed by the tunnel built in 2001. Although clearly there are differences between Wynnum and Nundah, what is interesting is that, as unit developments have continued in Nundah, the knock on effect on the retail precinct has been positive, with cafes and boutiques opening up among the ops shops and barbers shops (sound familiar?).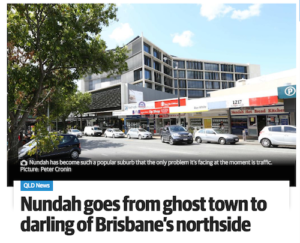 The difference is that Nundah fills up at the weekend with 'young professionals'. Something that isn't going to happen while Wynnum Central continues to observe an unofficial midday closing time on Saturdays.
Here's the article on the Courier Mail website –
Nundah goes from ghost town to darling of Brisbane's northside
Maybe 2017 can be the year that Wynnum opens longer hours at the weekend?
Let us know your thoughts…
Image credit: https://upload.wikimedia.org/wikipedia/commons/c/c0/Nundah_Railway_Station,_Queensland,_May_2012.JPG
---
[posts_carousel cats=""]