Headlines
Kurt French kicks off first Edith Street market – literally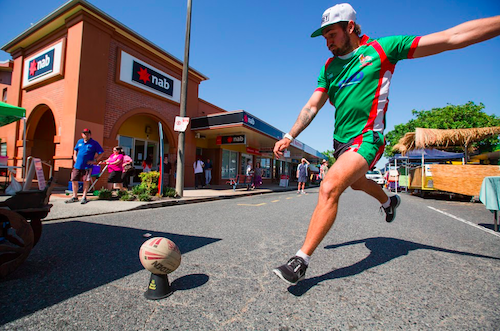 On Saturday the first art/craft/vintage/retro market in Edith Street was officially opened by Seagulls player Kurt French kicking a ball down Edith Street. He had to cope with an obstacle not normally found on good rugby league pitches – a very tall tree right over the road.
The formal kickoff slightly delayed the market start time, but by around 10am Edith Street was buzzing with activity – many of the cafes were full to the brim and at least one stallholder had completely run out of stock by 11am.
Musicians and buskers were playing in the street and at the Bay Terrace end marketgoers were treated to a few numbers with busker Steve and traffic control lady Beverley singing harmony together – what an amazing sight! When they were joined by St John Ambulance lady Chrissy you had a pretty unique group, who got a huge round of applause from bystanders.
We'd like to say a very big thank you to everyone who came down to the market – marketgoers and stallholders and of course all the retailers and WynnumCentral member businesses. The market would not have been possible without the support of WynnumCentral members – those 27 Wynnum retailers (they're listed on this website) and businesses who backed a mad idea to get people back into Wynnum at the weekend. If you enjoyed the day please let our member businesses know!
We want to make the art/craft/vintage/retro market a monthly event and the next one is planned for November 2nd.
Next time the markets will kick off at 9am sharp(!) and we're hoping to attract more stallholders and get some more stuff for the kids. And more music.
Thank you again to everyone – our volunteers and helpers, the musicians who played and everyone who came down.
And finally a big thank you to Kurt French, who helped us 'kick off' the day!
…and here are two more people we'd like to thank:
Craig at Andersens Wynnum who donated quite a lot of carpet offcuts so we could cover the cables running to those stalls that needed power
Brad and Petrina at McCarthy Jewellers who saw our brand new unpacked gazebo (which we never got around to putting up we were so busy) left at the back of the Got-A-Go Boutique and put it away for safekeeping. For a moment there we thought we'd 'lost' it
Here are some photos from the day…
---
As seen on Weekend Notes http://www.weekendnotes.com/wynnum-central-art-craft-vintage-retro-market/