Headlines
Reasons to be cheerful (and grateful)
Last year in the run up to the Christmas season, the Christian Science Reading Room in Florence Street asked people to remember what they were grateful for. This resulted in a window full of post-it notes that people had written their reasons for being grateful on. As Christmas fast approaches once again, the Christian Science Reading Room is asking people to do the same thing this year.
Here's what it's all about…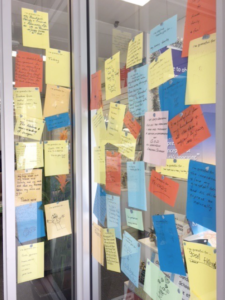 There's a worldwide gratitude movement starting from Wynnum this Christmas with hashtag #startChristmaswiththanks. For some people Christmas is marred by loneliness, lack or even anger.
Volunteers at the Christian Science Reading Room in Wynnum have found that when the community combats these issues with gratitude and love for even small things it helps to lift the burden of gloom from us all.
The Reading Room is inviting everyone to go on-line or in-person to the Reading Room to write a thank you note for any small thing in their life that they're grateful for.
Go on-line to www.christiansciencewynnum.org.au and share your thanks with #startChristmaswiththanks.
Or go to the footpath display outside the Christian Science Reading Room at 92 Florence St, Wynnum, take a card, write your thank-you note then stick in the shopfront window.
Let's together wallpaper the Reading Room with thanks so all passers-by can read and be inspired by Wynnum's "Wall of Thanks". Last Christmas our shop front was covered with thankyou notes from little children to great grannies and everyone in between.
And this year the very first person to write a thank-you note was a gentleman who lives in a shelter. He wrote two notes, "I'm grateful for the life I have been given, for peace and happiness" and "I'm saying thank-you for setting me free from sin, and for the love I have from others".
The Christian Science Reading Room is open weekdays (except Thursdays) from 10am to 3.30pm.
---
[posts_carousel cats=""]