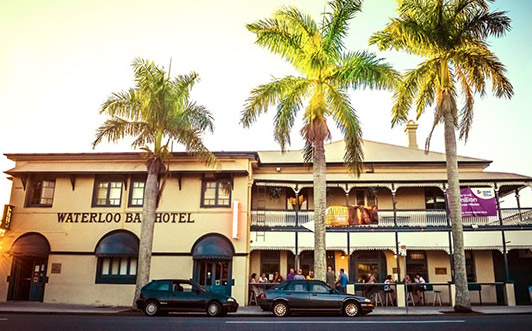 A quick walk around Wynnum Central and you can see that life is slowly returning to (or maybe 'towards') normal, with more cafes, shops and other retailers open.
Although some larger venues are remaining shut for a little longer, others will be opening up from today (Friday 5th June) with up to 20 people allowed per 'predefined area' within the venue. In the case of The Waterloo Bay Hotel, where there are six predefined areas, this means they can welcome up to 120 patrons at any one time across the three interior bars, the indoor and outdoor areas of The Fig restaurant and the beer garden. All patrons will need to sign in with their contact details so that the venue complies with contact tracing provisions.
The Coffee Club on Bay Terrace, which has been closed for several weeks, is also due to re-open this weekend, with the doors being flung open from 5pm tonight and then regular hours from next week. Some restrictions will continue to apply to total numbers of customers in the cafe at any one time.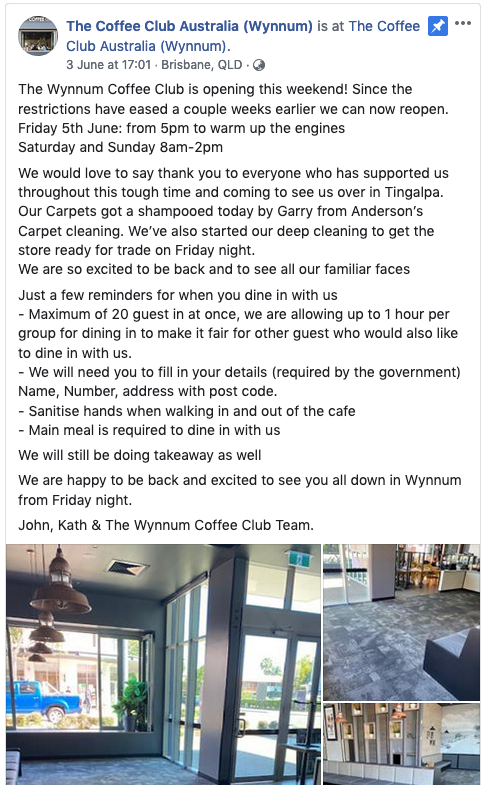 Further down Bay Terrace, Tolerance Cuisine cafe (under the Flinders Building) will be extending its opening hours a little further Tuesday to Saturday (8.30am-2pm).
Some meetings, such as those held by local group Wynnum Business, can now be held in person, although again some limits still apply.
Meetings can have no more than 20 people present and, if held at an established venue, all attendees need to provide their name and mobile phone number to the venue.
The next Wynnum Business meeting is over lunch on Thursday 25th June and will be held at The Waterloo Bay Hotel, with speaker Justin Ham from cinema developers Berrima Pty Ltd giving attendees an update on the progress of construction.
As there is an online booking system for the lunch, it was simple to add extra form fields to capture address and mobile number, which are being passed on to the venue to ensure COVID-19 compliance.