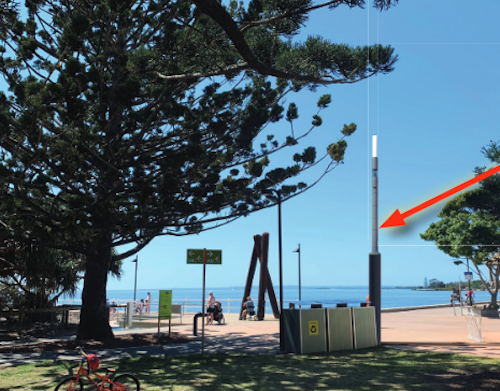 The Wynnum waterfront will shortly get a 'smart pole' as part of the Brisbane Smart Poles project which will see 20 of these very special light poles go up around Brisbane. Each pole is equipped with a range of advanced features that you don't get on everyday light poles.
In Wynnum's case, the pole – to be positioned on the waterfront close to the jetty, whale park and wading pool – will be equipped with devices that allow…
Pedestrian, scooter and/or cyclist detection
Climate monitoring
Air quality monitoring
USB charging
The good news is that Council did not forget the primary function of a standard pole – the new pole will actually be equipped with a light as well – but no ordinary light – it will be a 'Beacon LED luminaire'.
All of these features will allow Council to collect data to give them more information on how key locations across Brisbane are used. Each of the 20 poles is equipped with a different set of functions presumably based on the locations and the data Council is interested in collecting. The features the Wynnum pole didn't get include…
Creative lighting (coloured/patterned lighting projected onto the ground or a wall nearby)
Public safety lighting
Environmental noise monitoring (mainly to detect traffic noise)
Wi-Fi
General power outlet
When Brisbane City Council engaged the supplier of the poles (at a cost of a cool $2.1M or $105,000 per pole*), Sydney-based ENE HUB, they specifically requested that the company remove the CCTV, public address, visual display and parking monitoring functions. The poles have an expected lifespan of 40 years.
It's probably a good job that wi-fi was not included on the Wynnum pole, if the Brisbane free wi-fi is anything to go by. In our experience (as we've mentioned before) it doesn't seem to work at all and we'd guess very few people even try to use it. See our screenshots below of the 4G connection as against the message we get trying to connect to the free wi-fi. Better to switch it off and ask the Council to put the money saved to better use!
What do you think about the new poles and the current free wi-fi service? Let us know in the comments below or on social media.
More information on the smart poles here – https://www.brisbane.qld.gov.au/about-council/governance-and-strategy/vision-and-strategy/smart-connected-brisbane/brisbane-smart-poles
*oops our bad… we originally got the decimal point in the wrong place and reported the project cost at $20M (which would have been $1M per pole)