Headlines
Wynnum Herald announces closure of print edition
…and new kid on the block arrives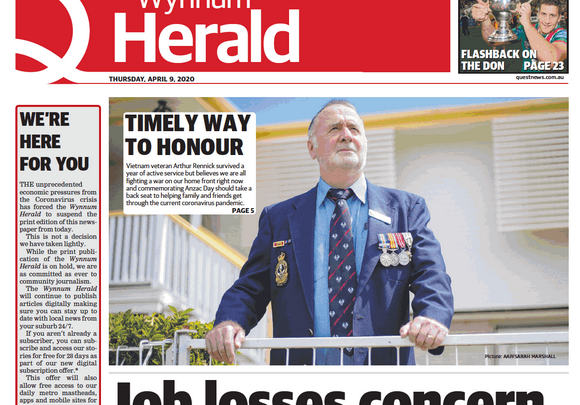 Last week News Corp – owners of Quest Newspapers which include the Wynnum Herald – announced the closure of more than 100 print titles, affecting primarily regional and suburban newspapers. The Wynnum Herald was one of the Quest titles that will no longer be printed, along with the Albert and Logan News, the Caboolture Herald, Westside News, Pine Rivers Press, the Redcliffe and Bayside Herald, South-West News, the North Lakes Times, Redlands Community News, and Springfield News.
Executive Chairman of News Corp Michael Miller said…
"COVID-19 has impacted the sustainability of community and regional publishing. Despite the audiences of News Corp's digital mastheads growing more than 60 per cent as Australians turned to trusted media sources during the peak of the recent COVID-19 lockdowns, print advertising spending which contributes the majority of our revenues, has accelerated its decline. In total we will now publish 92 digital only regional and community mastheads, each offering readers rolling coverage, electronic alerts and newsletters, richer audio and video content and deeper local sport coverage and community debate."
He also referred to the challenges of Facebook and Google not paying publishers for content.
The Wynnum Herald will now be permanently folded into the online edition of the Brisbane Courier Mail (here – https://www.couriermail.com.au/questnews/southeast). The changes will result in around 500 jobs being lost at News Corp from the end of this month.
One difficulty that has been raised by many Wynnum Herald readers turning to the Courier Mail online is that quite a few stories are now behind a paywall, open only to subscribers. Editor of Wynnum Herald online Brayden Heslehurst explained…
"We know some people are disappointed that they have to subscribe to get access to stories they want to read online. However we hope people can support our journalists so that we can ensure we can continue to cover the important local stories that need to be told."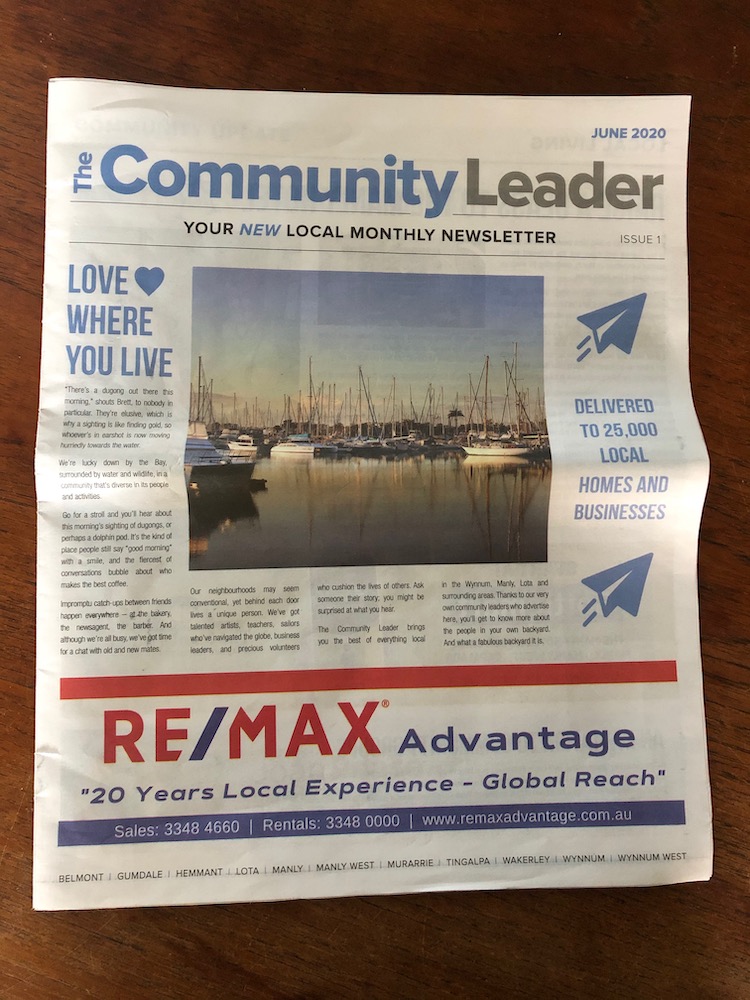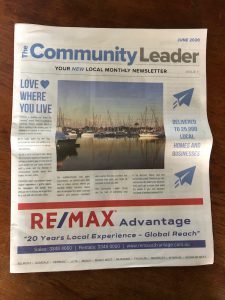 Just as the Wynnum Herald ceases in print form, a new local monthly newsletter called The Community Leader (pictured left) has published its first edition. Delivered for free to 22,000 local home in and around Wynnum, Manly and Lota and also available in various spots around the area (we're guessing where the Wynnum Herald used to appear), the 20 page publication covers a variety of local community-focused stories as well as updates from Joan Pease MP and Councillor Peter Cumming, plus some real estate and other advertising. Issue 1 – June 2020 is already out and we understand will be delivered to local households in the local area from next week.
Have you got your copy of The Community Leader? If so, tell us what you think in the comments below or on our social media page.
Also… take our short (2 minute, 12 question) survey on the Wynnum Herald. If we have a decent response we'll share the results with you soon!