Headlines
Wynnum Streetscape Improvement – Survey Results
Back in April we asked you what you thought of Brisbane City Council's plans to spend $500,000 on completing the Suburban Centre Improvement Project that began in 2000. In the survey we asked a few questions and suggested a few other ways in which the council might like to spend the money. Unfortunately it is a 'fait accompli' – the council will spend the money the way it wants to, and this survey won't have had any influence, but it was an interesting exercise to see what people thought about it nonetheless.
We had 113 people respond to the survey (67% residents of 4178, 20% of 4179) and the good news for the council is that 54% of those surveyed thought it would be money well spent, with only 45% disagreeing.
Of those that disagreed, when asked what the money should be spent on instead, public toilets in Wynnum central got the biggest vote at 49% of respondents, followed by pedestrianisation (or partial pedestrianisation) of either Bay Terrace or Edith Street at 34%.
Around 36% of respondents had some other suggestions, which we have listed below (Other Suggestions-Question 2, along with some of the comments from Question 1). Click on the report cover image below to download and read the survey results…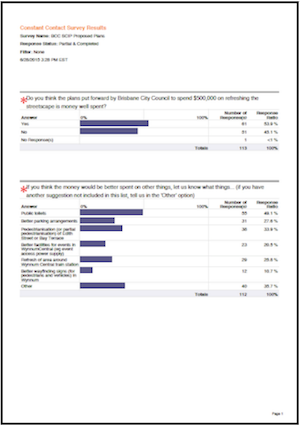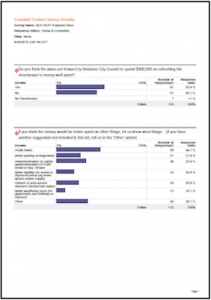 WynnumCentral understands that the SCIP work could start this month. We look forward to seeing the improvements.
Let us know what you think in the comments below.
PS the survey is still open – feel free to add your thoughts! Just click on the icon at the bottom of the right hand column on any page on this site.
---
Comments from the survey
Comments – Question 1
Do a feasibility study for a cinema
Put bike racks at the top end of bay terrace near the 'tower' building and other outskirts of the town
The money would be better spent on repairing the skate park at Lota
Wynnum central desperately needs a makeover to bring it up to par with the growth and development of the bayside area, encourage new businesses to open and provide more options for people to spend more time in wynnum central.
I think wynnum should focus on making it a destination area. it is a sea side town and is consistently deserted after about 4pm (the school rush). everything closes at midday on weekends and it is very quiet and empty and we will start moving away to other areas where things stay open and there are things to do.
The streets have already had enough money spent on them with enough street art ect. Any more would be a waste.
Yes refreshing the streetscape is important but there are other higher priorities.
I would like to see more greening as in plantings for Wynnum central, before other things.
It seems like a lot but doesn't go a long way when planting seating lighting etc is all factored in. If the footpaths could be made more user friendly for cafes and shops to alfresco dining whilst still allowing pedestrian access would be good.
Yes if budgeted correctly –no fancy sculptures but something the people of Wynnum can enjoy
wast of money
Freshens up the area and makes it more livable and therefore more people will want to visit and explore and spend money
The money would be better spent on improving parking in the shopping precinct, more shaded areas along the waterfront, or more seating in the shade of existing trees to name a couple of suggestion. A replacement railway crossing for the Wynnum Central end of Wynnum Railway Station
Part should be spent on refreshing streetscape but not such a large amount on just streetscaping as there are other important issues.
The main thing that will make a difference is to connect the waterfront to Bay Terrace – the council has paid money in the past and this is what is recommended every time. Make Edith St a part pedestrian plaza to the waterfront.
Streetscape does not bring people into the area
The area looks tiered and uninviting It needs to be refreshed to bring life back to Wynnum Central
I think some other refreshing would be great too
Wynnum needs a facelift badly, but money can easily be wasted on stupid ideas from citizens who afraid of progression. If the community wants to draw more people to Wynnum, than let our beautiful area progress with modern times and ideas and not let the money be wasted.
I would like to see the little Cafe's have more street seating and it would be nice to see restaurants building up one level to take in the magnificant view of the Bay. Beautifying Bay Terrace with many colourful hanging flower baskets would help and maybe creating a nautical look would definitely freshen the area up.
I think Wynnum is very pretty already and I like the street decorations. Maybe more lights like Wellington Point has, but other than that we're good. Maybe the money would be better spent subsidising rents so more shops can afford the rent and encourage even more new and independent shop owners, like Bulimba. We have a better position than both Bulimba and Wellington Point, I don't know why we aren't more attractive to investors – we have a sea front, sea views, and a train line straight in.
Wynnum needs to be refreshed.
Wynnum needs most of all to connect the Esplanade/waterfront with Wynnum Centralto increase the pedestrian market in the shopping strip
The streetscape is satisfactory. The scope of the proposed spending on artwork and repainting seats is beneficial to the artists and maintenance crew not Wynnum Central.
Yes, but other improvements are necessary too
If you are so passionate about an idea for the local area, you should get your own petition up and running, put in the hard work yourself and lobby council on your own merits. Not off the back of other peoples' hard work. Wynnum CBD needs all the help it can get.
Finally! If anything, it's long overdue and we need more.
$500,000 seems to be a lot of money for the "improvements"? that I saw posted at the display last week. Spend $50,000 on those improvements. Who are the people that are supposed to be receiving the $500,000?
Give us a cinema
Just recently moved to Wynnum in January. We love it but it is very old and out dated. Refreshing Wynnum would be a great thing!
The arranged "improvements" are literally just general up keep that a public space needs. Making out that this is a refresher is absolute bull shit, it's just our suburb has been neglected over the years.
Would be better spent on public toilets or a play area for children
not sure what the plans are
Any money into Wynnum should be welcomed
The list of work obviously needs to be done.
Wynnum is looking a little tired. Some great little businesses are popping up but the council needs to oversee and support to tie it all together cohesively.
Would love to see shopfronts given a facelift rather than new bins etc
As long as it's done right
Employ young graffiti artist to do up the lane ways like in Melbourne – but this shouldn't cost $500,000 for just that, we could make the laneways into space for cafes. No stupid bronze statues or stupid plants
angle parking should be key part.
I don't think the Wynnum streetscape is bad
We need this upgrade to encourage small business to invest in the area which will in turn encourage people to shop in the area.
No
This should just be the beginning. Local Commercial real estate owners should be given guidelines as to the aesthetic of their properties also. The shop fronts of Wynnum are quite unkempt!
It's all well and good wanting better facilities (toilets, parking, etc…), but we first have to make Wynnum CBD a place that locals want to hang out in (especially on the weekend) and a place that people actually want to come to. Having a lovely streetscape to wander around (and encouraging new businesses to cater for foot trade) is a start. Wayfinding signs would also be fantastic. If it's a nice place to visit people will park (or lo and behold catch public transport o_O) where they can.
I see it as a waste of money to upgrade seats and trees.
after the lack of community consultation,the Library deal and the tree relocation, I don't believe the council have much integrity when it comes to value for money for the community.
All improvements to the look of the area will be money well spent – it needs a good revamp
Other Suggestions – Question 2
see below
Redevelopment of the waterfront
The skate park at Lota
Activating "Off-street" spaces
cinema or entertainment facilities so we don't always have to leave wynnum to do
Florence st
One way for Edith street
Better lighting
see below
Community & Youth Arts & Recreation Facilities
more bike lanes
make it the opshop capital of Brisbane – it would bring in people
open air entertainment within "CBD"
none
subsidising rents for shops, cafes and new pubs.
plant more trees and clean up the pavements
See below
No
Greenspace with water play area and kids playequipment similar to rocks riversid
coloured lights in footpath trees
esplanade facelift
Information booth in the CBD
Cinema
Foot paths on all roads!
Strippers and Hookers
Play area or facilities for children
Reseal esplanade particularly from Manly to Lota
bycle lanes and bycle parking
N/a
Shopfront upgrade
Fix the roads
Shop front beautification and streetscape plantings
alley way upgrade
Greene Park. Traffic issues. No more depressing shops.
N/A
Streetscape
Cinema
see below
update old buildings that still exist to show wynnum heritage, pave edith st and
redevelop
financial assistance to help upgrade signage above shops
Post your feedback in the comments below…