If you saw the Wynnum Herald yesterday (The City Slider delays 325m mega slide event planned for Wynnum until October after discussions with Brisbane City Council) you'll now know of plans to hold a waterslide event in Wynnum.
Negotiations between City Slider and the Republic of Wynnum were being kept under wraps until permission to hold the event had been given by the local authorities, but with the secret now out, a representative from the Republic was happy to comment…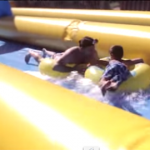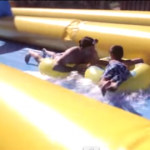 "We've been in negotiation with waterslide operator City Slider since February to see if we could bring this great event to the Republic." explained a spokesperson for the Republic of Wynnum. "It is a big event and it's important that the operator is able to reassure Brisbane City Council that it will pass health and safety compliance rules and that the disruption to the local community will be minimised. City Slider have held many of these events around Australia and we're confident they stand every chance of getting the green light from the council. We look forward to welcoming many thousands of tourists to the republic when we're able to announce a date."
Once approved, the City Slider event will run on a Saturday and will coincide with the WynnumCentral Twilight Market. Ticketholders will be encouraged to use public transport to get to the waterslide, and the quickest route to and from the proposed location will be via the Twilight Market in Edith Street, where they will be able to enjoy the food and entertainment at the market and visit the local shops, bars and eateries. It should be a great day!
What do you think of the water slide event? Are you for it or against it?
[posts_carousel cats=""]